Awards and Accolades for Zafar Abbas
A Pakistan Link Report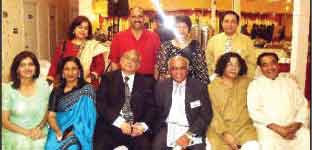 Zafar Abbas and his admirers
A picture of grace and poise, Urdu Times Bureau Chief Zafar Abbas is perhaps the most popular member of the community. His winsome smile, suave disposition and cultured bearings make him the darling of every gathering.
Over the years, Zafar has made his mark as a literatus, calligraphist, artist and journalist. More recently, he joined the Los Angeles County Sheriff Advisory Council to promote interfaith understanding and succeeded in presenting the peaceful face of Islam to fellow Council members. It would not be an overstatement to say that Zafar is the most endearing member of the Pakistani-American community in the Los Angeles area. It was only befitting that the Anjuman-e-Tarraqi-e-Urdu decided to dedicate "Ek Sham Zafar Abbas Kay Nam' on Saturday, September 9, 2006 at the Shahnawaz Hotel in Lakewood.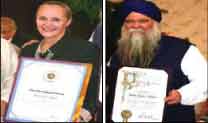 Awards for Zafar
The event was attended by a large number of Zafar's admirers and testified to his popularity. The guests included Consul General Syed Ibne Abbas, prominent community activists, City and County officials, and leading literati. The speakers included CG Ibne Abbas, Chairperson Rehana Qamar of the Anjuman-e-Taraqi-e-Urdu, Bob Adams, Narinjan Khalsa, Anis Mufti, Arif Imam, Wasiul Hassan Naqqash, Qamar Ali Abbasi and Neelofar Abbasi. Mr and Mrs Abbasi had especially flown from New York to grace the event. Nadir Durrani had come from Dallas to be part of the tribute-paying ceremony.
Several awards were given to Zafar on the occasion, including the State of California Legislative Assembly Resolution Award (Zafar is the fourth Muslim to receive the coveted honor), Mayor of Los Angeles Excellence in Community Service Award, LA County Sheriff Award, Kern County Sheriff Award, Orange County Sheriff Award, and Human Rights Foundation Award. Besides, the Anjuman-e-Taraqi-e-Urdu and Friends of Pakistan presented Zaffar with checks of $5000 and $2000 respectively. A large number of presents were also given to Zafar, including a gold locket by Jamil Bhatti, as a token of the community's appreciation for his multifarious services.

Zafar Abbas

Anees Mufti, Zafar Abbas and Rehana Qamar

The 'sham' with Zafar proved a rare show of spontaneous and overflowing affection of the community and interfaith groups for Zafar who was visibly overwhelmed. "Mae nae community ki itni khidmat nahin kari jitna oos nae nawaza hae," an emotionally charged Zaffar stated. He was wholly wrong. He deserves much more love for his sustained strivings to support the community.

Rehana Qamar spotlighted the importance of the day. "Yeh zaroori tha kae yeh sham manaee jaae aur haamari khush kismati hae kae yeh farz ham nae ada kiya."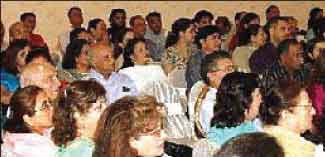 A section of the audience
Consul General Ibne Abbas appeared visibly happy to see vibrant Pakistani-American groups engaged in the laudable task of promoting Urdu in the distant land of the US. He described Zafar as a versatile individual and was deeply impressed by the community's profound love for him. "Haerat hae kae community in ko itna chati hae aur youn wahilana mohabat nichawar karti hae," he remarked.
Son of the late Farigh Bokhari who was a contemporary and associate of Faiz Ahmad Faiz and a poet, journalist, researcher and author of 54 books, Zaffar is a gifted individual whose winsome smile and humility endear him to one and all who know him. The 'sham' dedicated to his 'naam' would enrich the memories and experiences of community members markedly more than Zafar's own. We in Pakistan Link pray for his continued success.

-------------------------------------------------------------------------------------