Musharraf Calls for Dialogue among Faiths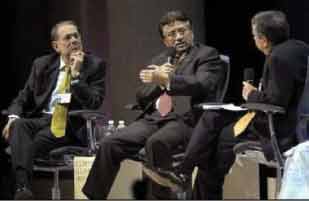 (L-R) European Union Foreign Policy Chief Javier Solana, Pakistan's President Pervez Musharraf and New York Times columnist Thomas Friedman
New York: President Gen Pervez Musharraf on Wednesday termed Pope Bennedict's recent comments on Islam as unwarranted and cautioned against opening new fronts.
"Pope's remarks caused a lot of tension in the Muslim world and at such critical times, it was most unwarranted. This is the time to build bridges, not to burn bridges," the president said while speaking at the annual meeting of the Clinton Global Initiative at a hotel here.
He was one of the four panelists invited to discuss "Urgent Issues and Innovative Solutions." Other panelists included the presidents of Liberia and Colombia and European Union's foreign policy chief Javier Solana.
President Musharraf underscored the need for inter-faith dialogue and resolution of political disputes involving Muslims. He emphatically said that Palestine was at the heart of extremism and terrorism and its resolution must take precedence over all other issues, including Afghanistan, Iraq and Lebanon. His remarks drew an instant round of applause from the audience.
Going into the genesis of extremism and terrorism, the president said 22,000 armed mujahideen had been sent to the region to fight the Soviet invasion of Afghanistan, adding that Al Qaeda was a creation of that move.
"We got in the eye of the storm in 1979 and remain in the eye of the storm," he said. "For 27 years, we have suffered fallout of militancy from east and west."
He said that the focus had now shifted from Al Qaeda to the Taliban and warned: "Taliban are more dangerous because they have roots in the people of Afghanistan, Pakistan and the tribal areas."
He said it was wrong to assume that all Pukhtoons in the region were Taliban. To fight extremism and terrorism, it was important to adopt a multi-pronged strategy that was not limited to military action alone. He added that Pakistan was the only country that had examined and strategised all aspects of extremism and terrorism. "We want the world to also analyze it."
The president said that Mulla Omar was somewhere in the southern province of Afghanistan, in Kandahar or below, as was the command echelon of Taliban.
When moderator Thomas Friedman, a noted New York Times columnist, asked the president what would he ask for if he were granted one wish by Mr Clinton for assistance, the President said: "I would go for market access. Give us market access. We want trade, not aid."
Later, Mr Solana, who sat next to the president, supported his call for market access and said he would also support such a demand from the EU. His response was appreciated by the audience.
Mr. Clinton presented the welcome remarks. America's first lady Laura Bush also addressed the gathering at which more than 50 former and present world leaders were present, besides religious and business leaders.
Prominent among them was Madeline Albright, former US secretary of state, who was also seen exchanging greetings with President Musharraf.
The Clinton Global Initiative was launched by the 42nd president of the US a couple of years ago to tackle major global challenges.
-------------------------------------------------------------------------------------