Al-Shifa Free Clinic Fundraiser Held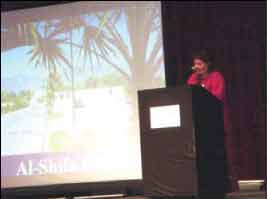 Dr. Talat Khan addresses the gathering
The Al-Shifa Free Clinic held a fundraiser on September 2, 2006 at the Riverside Convention Center in Riverside, CA. It was attended by prominent community members and officials including Riverside Mayor Ronald O. Loveridge, Reverend Bill Degnan, and Hussam Ayloush of CAIR.
Dr. Talat Khan, Chairperson of the Al-Shifa Free Clinic, welcomed the guests and furnished information about the operation of the clinic. She described the clinic as an important humanitarian contribution by Muslims to the American society.
Dr. Mohammed Aslam, Medical Director of the clinic, who was the coordinator of the event, stated that it was absolutely imperative that the Muslim community supported the clinic with generous donations so that it could continue to operate and provide services to people who cannot afford health insurance. Dr. Maqbool Patel went on to inform the guests about the clinic's dental department.
The Al-Shifa Clinic has been in operation since the year 2000 in the city of Muscoy (San Bernardino), CA. It was founded on the premise of serving the poor and indigent population of San Bernardino. In 2004, the Dentistry Department was added to the clinic.
There are about 15 to 20 doctors who volunteer their time and services at the clinic to serve 300 to 400 patients every month. In addition to providing basic services, the clinic also offers free blood, urine, EKG, and treadmill testing facilities and arranges health education seminars for the benefit of the patients.
The clinic serves patients from diverse ethnic backgrounds including Hispanic (50%) and African-American (10%) who mostly are mostly non-Muslims. The clinic is primarily supported by the Muslim community. If anyone wishes to contribute to the clinic so that it could continue to operate, he/she could send donations to the Al-Shifa Clinic at 2034B Mallory St., San Bernardino, CA 92407.
Al-Shifa will gladly assist anyone who is in need of health services free of charge. For more information please call (909) 473 – 0600.

-------------------------------------------------------------------------------------