The Rally and the Counter Rally
By Naseem Shekhani, MD
St. Louis, MO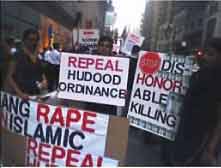 Asain American Network for Human Right Abuse joined forces with Amnesty International and other organizations including Amnesty International NYC, Women's Action Team, Breakthrough, Equality Now, Human Rights Watch, The Sindhi Association of North America (SANA), the Voices of Pakistan, the World Sindhi Congress, World Sindhi Institute, and local New York university student organizations to hold a rally on September 18 2006 near the Roosevelt Hotel where General Pervez Musharaf was staying. About 150 people representing a variety of segments of the Pakistani-American population participated in the rally.
When the organizers reached the hotel, they were told they could only hold their rally by 44th and Madison, even when they had the permit for 45th and Madison. Lieutenant Mendez said the permit did not mean anything and could be changed anytime, and if he wished he could even tear it off. Despite several attempts, ANAA and Amnesty coordinators were forced to move to 44th and Madison. The Pakistani Government tried to counter the rally by holding their own. Many said it was obvious that their rally was a reaction to the ANAA rally.
Dr Muhammed Taqi of Michigan said, "ANAA has put the military regime on the defensive, and their farce of pro-Musharraf (rallies) shows the desperation of the beleaguered despot." Jeanne Bergman of Amnesty international said, "One must pay attention to human rights at all cost."
The objective of the rally was to protest against human rights violations in Pakistan. Speakers demanded the repeal of the Hudood Ordinance and called for outlawing honor killings.
The rally will mobilize organizations and individuals to speak out against human rights violations in Pakistan and to demand changes that would ensure the welfare of all Pakistanis. It demanded an end to:
Violation of Pakistani women's rights
Blasphemy Laws
Violence against human rights defenders
Discrimination against minorities.
In the end, I must state that the Government of Pakistan -sponsored rally was organized to counter the ANAA rally. I think ANAA made this point known to the general public of America.
-------------------------------------------------------------------------------------