Los Angeles Fundraiser for TCF School in Minhala
By Amjad Noorani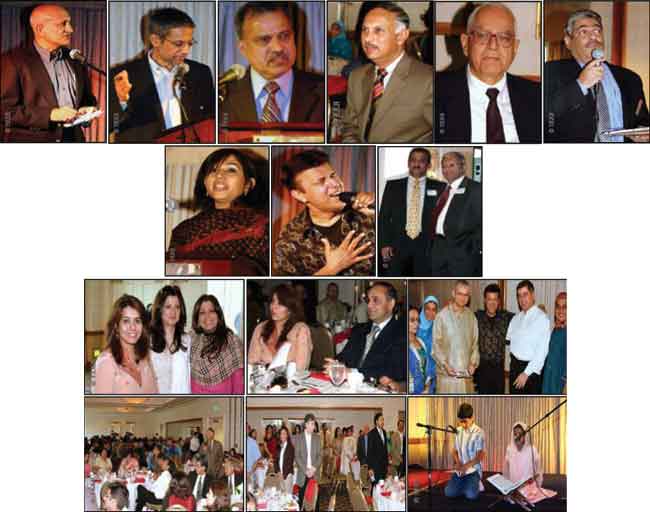 Glimpses of the Los Angeles fundraiser for the TCF school in Minhala, Punjab. (Pictures courtesy YKKB)
Long Beach, CA: A highly enjoyable and entertaining Los Angeles fundraiser luncheon hosted by The Citizens Foundation, USA at The Hyatt brought to conclusion a busy Pakistan Day weekend of three TCF events in California.
The luncheon at The Hyatt featured inspiring presentations, unsolicited testimonials and lively entertainment by artist extraordinaire, Alamgir. The event was graced by Syed Ibne Hasan, Consul Gen. of Pakistan in Los Angeles and Mrs. Ibne Hasan. Candid observations by the Consul General included remarks like, "I am spellbound – amazed at what TCF has accomplished" – and his assurance of continued support to the promotional efforts of TCF-USA in spreading awareness in the community. Several others in the Pakistan-American community joined in the festivities, including some supporters from northern California and Chicago who flew in for the occasion.
The highlight of the luncheon were back-to-back multimedia presentations by TCF CEO, SP Shahid (visiting from Pakistan for an executive program at Stanford) and local entrepreneur-philanthropist, Pervaiz Lodhie, CEO of LEDtronics. Both messages underscored the dismal status of the educational system in Pakistan and what TCF has accomplished in the short span of 10 years. A powerful personal testimonial and plea of support for TCF was effectively presented by local philanthropist-businessman, Salim Adaya, who emphasized along with other speakers that education of the underprivileged is the best long-term investment in Pakistan.
Cleverly interjected between formal presentations was Alamgir's soulful and timely rendering of Khalil Gibran's poem – "Giving", with the inspirational message that life is truly enriched by giving selflessly and with no thought of the rewards. On the lighter side, entertainer and story-teller par excellence, Alamgir took the audience back a few nostalgic years in his inimitable style as a hybrid pop-traditional vocalist, with movie favorites and a tribute to Nusrat's genius, ending the party with a melodious song in his sweet native language from Bangladesh.
The Minhala School Project
The successful luncheon marked the first southern California event for The Citizens Foundation organized by the Southern California Support Group of TCF-USA, a 501c(3) non-profit with its national office in Chicago. The occasion kicked off a campaign to fund a primary school in Minhala, Punjab, near Lahore.
Details of the school project are on the TCF-USA website http://tcfusa.org/Minhala_School_Project.htm
The school is expected to start operating in August 2007 as the TCF "Los Angeles Campus".
Though land for the school has been acquired as a donation, funds needed for construction, furniture, fixtures, signage, supplies, school equipment and a school van are close to $109,000 and include school operating costs for the first year.
All TCF schools operate in architecturally designed, purpose-built schools with essential facilities like a library and art room, running water, electricity, clean bathrooms and spacious play areas. Typically, a primary school has 7 classrooms for pre-school (nursery) and K to 5th grade, plus a modest administrative block for the principal's office, a staff room and a business office. Each primary school has an enrollment capacity of 210 children and there are no more than 30 children in a class.
The teaching faculty and principal are all women, which encourages higher female enrollment. Most TCF schools can boast that 50% of the students are girls – who, in turn, will raise educated families of the future.
The very essential school van for transporting teaching staff is a valuable benefit of employment at TCF as most schools are in urban and rural locations which are difficult to reach and often in remote areas where public transport does not exist.
Readers may make tax deductible donations by mail or online. A donation can be allocated specifically for the TCF Los Angeles Campus. For information about TCF-USA, please visit www.tcfusa.org or call Uneza Akhtar, Manager Development at the TCF-USA office (224) 636-2858. The California and west coast contact is (650) 793-6364. Coordinator for the Minhala school project, Mustafa Bengali, may be contacted by email at mbengali@dlproviders.com.
A comprehensive education system, not just another school
For efficiency in management and to provide a complete education package to a realistic number of communities, TCF schools are planned as a 'cluster' of 5 or 6 primary schools which feed into one or more two-unit secondary schools (grades 6 through 10) with enrollment capacity of 350 students each. Classes in the secondary schools typically consist of 35 students and also house a computer education department and science labs.
The teaching faculty and principals at all schools are women – a key factor which encourages higher female enrollment. In fact, 50% students at most TCF schools are girls who, in turn, will raise educated families of the future.
Brief facts about TCF
Salient TCF statistics speak for themselves –
• 344 schools in operation, including 33 afternoon shifts
• 237 primary schools, 77 secondary schools
• 40,000 students enrolled – nearly half female
• scholarship program for college and vocational training
• 2,400 all-women teaching faculty
• efficient, transparent operations
• all schools built, operated and managed by TCF
• quality of curriculum and teaching ensured by professional managers and staff of TCF
Overseas support organizations are now established in the UK, UAE, US, Canada, Saudi Arabia, Bahrain and Qatar and volunteers have been effective in mobilizing financial supporters – individuals, corporations and foundations.
US donors gave $2.2million to TCF-USA in 2006, a 205% increase over the previous year. 30 schools and several other related projects have been funded by US donors.

-------------------------------------------------------------------------------------