PAAC President Hosts Party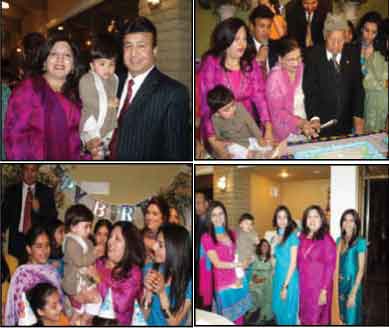 Glimpses of the party hosted by PAAC President S. Ashraf Ali
The birthday of Zayan Ali, son of Mr. and Mrs. Syed Ashraf Ali, was celebrated on Saturday, March 31, at the Shalimar Garden, Pomona, California.
Syed Ashraf Ali is a well-known community activist. He is the President of the Pakistani American Arts Council.
The birthday party was enjoyed by a large number of invitees. A special feature of the evening was the regard and respect shown to Mr. and Mrs. Syed Yaqub Ali, grandparents of Zayan who delighted everyone with their spontaneous show of affection for the younger generation. The couple showered love on the guests as well as their children and grandchildren.
The food served by the Shalimar Garden, which has recently opened, was enjoyed by the guests and the hosts alike.

-------------------------------------------------------------------------------------