Deseret Foundation to Set up State-of-the-Art Eye Hospital in Pakistan
A Pakistan Link Report
Dr. William Jackson and wife

Mr. and Mrs. Gary Sabin
Thanks to the concern and enterprise of two Americans - Dr. William Jackson and Gary Sabin – and their close association with an unassuming but zestful Pakistani-American – Saghir Aslam - a state-of-the-art eye hospital is being established in the northern parts of Pakistan.
The plans for the clinic have been finalized and civil construction is expected to start shortly at Chanan, which lies between Lahore and Islamabad close to Kharian. The eye hospital is scheduled to be operational sometime in the year 2008.
This was disclosed by Dr William Jackson and Mr. Gary Sabin in separate interviews with Pakistan Link. Both recounted their meetings with Mr. Saghir Aslam and spoke highly of his earnest efforts to better the lot of the underprivileged segments of Pakistan society. Both Jackson and Sabin have been to the earthquake ravaged areas in Pakistan and have met Aslam there to gain familiarity with the Saba Trust he founded. Pakistan is in the cataract belt and Jackson and Sabin rightly felt the pressing necessity of establishing the hospital. Of course, they "tested the waters," as Dr Jackson put it, and as soon as "we developed a common bond" with Aslam "we decided to launch the project."
The money for the hospital "is in the bank" and a "perfect set-up" has been worked out with Aslam and Dr Usman, a Pakistani doctor stationed in Chanan who would supervise the hospital in Pakistan, Jackson explained.
Under the setup, funds for the hospital will be provided by Jackson's Mabuhay Deseret Foundation which has established similar facilities in 17 countries of the world. Aslam and his Saba Trust and Dr Usman will arrange the services of local doctors. The arrangement has worked in several countries and there are indications it would work admirably in Pakistan too. Pakistani doctors have vividly demonstrated their expertise in various areas and eye care is certainly one of them.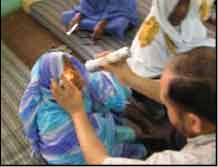 A Pakistani patient receives treatment in the earthquake ravaged area
The Mabuhay Deseret Foundation has an interesting beginning. During 1986-1989, Dr. William Jackson and his wife Audrey presided over a mission for the Church of Jesus Christ of Latter-day Saints in the Philippines. They were shocked at the number of children suffering from terrible disfiguring disabilities. On returning to the United States, Dr. Jackson met others who had similar experiences in Third World countries. The feeling was unanimous: the program in the Philippines could be duplicated in other countries. American doctors indicated a willingness to donate their time to train local doctors in the skills that they would need for the specialized care of these people. Over the years, The Mabuhay Deseret Foundation expanded into more than 20 countries and adopted the name of Deseret International Foundation.
How the proposal for establishing the hospital in Pakistan crystallized is another interesting story. Saghir Aslam recounts: "I met Dr. Jackson through another friend of ours, Tom Thorkelson. After I gave him a brief history of the Saba Trust he donated 500 eye lenses. At that time I was working with the Railway Hospital which basically helps poor people. We requested Dr. Jackson to provide some equipment which he readily did. He continued to provide eye lenses. He also sent us more equipment with the result that doctors from the Railway Hospital and Islamic Trust were able to travel in an ambulance donated by Dr. Jackson's church. The ambulance served as a mobile clinic for performing operations in hospitals. As of today we have covered hundreds of villages in different parts of NWFP, Azad Kashmir, Punjab, and Sindh. With Allah's blessings we have performed over 260,000 eye surgeries and the people operated upon can see without eye glasses.
"During my recent trip to Pakistan, Dr. Jackson met me again with another Board member Gary Sabin who in many ways is the Safi Qureshey of his community. Sabin supports many of Dr. Jackson's programs. We spent some time together in Pakistan. They both visited Saba Trust headquarter and they also went and saw other Saba Trust activities. They were extremely impressed."
Sabin says he was glad to "have been introduced to Saghir Aslam and the other doctors working in Pakistan." He was "pleased to be associated with people who want to help others." He made an illuminating comment that could easily pass for an adage in today's troubled world: "It would be nice if the world could focus on what we can do together to help one another as opposed to disagreeing with one another …"

-------------------------------------------------------------------------------------