A Shining Star
By Shaikh A. Majeed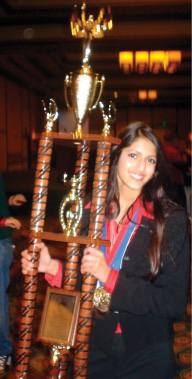 In a banquet room of the LAX Marriott, three hundred seated guests wait in anxious silence as the winners of the 2007 California Academic Decathlon are announced. As the presenter calls out "Vanden High School", a team dressed in matching red and black stands up to bursts of cheers. This team from Solano County in Northern California was the first team from their area to win, a team that had come close to winning in previous years. March of 2007 was a time of redemption for the nine-student team.
Academic Decathlon is a highly comprehensive program that truly tests how well rounded a student is. The nationwide competition's 10 categories — speech, interview, essay, language and literature, economics, mathematics, science, social science, art and music — comprise the decathlon. Aleena Syed, born and raised in California to Pakistani born parents, was a member of the winning team from Solano County.
The 2007 state competition was Aleena's second, she had been part of the team the year prior when Vanden came in a disappointing third. When asked what they had done differently, Aleena responded, "We worked a lot harder. We were lucky to have a group of students and supporters that really took this competition seriously." Seriously indeed; the team put in 30 hours a week of studying after school and on weekends, wrote and memorized speeches, highlighted and read informational materials, and made flashcards. The hard work truly paid off. At the Northbay Regional Competition held in Solano County, Aleena brought home medals in every category.
But there was little time for celebration. "State is more competitive than the Regionals competition", said Aleena. "The students at the state competition are more competitive. We really want to win." With this mentality, Vanden's team got back to work—they reviewed speeches, practiced interviews, took practice tests, listened to lectures, and continued studying. "It was definitely difficult at times to stay focused, but we certainly didn't want to lose state again." The team not only won, but also shattered the state division record. Aleena brought home individual medals in economics, language and literature, science, interview, science, overall county score and overall score. "The team medals definitely meant the most," said Aleena. "This was our ultimate goal and it was incredible to be able to achieve that. The only pressure is we have to try to do it again!" Aleena, now a senior at Vanden High School, will return to the competition as team captain.
Aleena has won four gold and five silver individual medals. She also ranked among the top ten in the State, and top 20 in the nation.

-------------------------------------------------------------------------------------