Balochistan Governor Addresses World Affairs Council
By Sumarah Faquir

The Los Angeles World Affairs Council provided an opportunity to many people to meet Owais Ahmed Ghani, Governor of Balochistan, when it arranged a dinner in his honor at the Beverly Hilton Hotel on August 6th. At this event he articulately presented his views on terrorism in the world today. He added depth to his speech by talking about the roles played by Pakistan and Afghanistan in this global issue.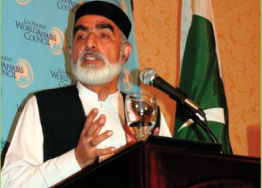 Governor Owais Ahmed Ghani speaking at the WAC
He had many astounding viewpoints, pointing out that all nations of the world know that there is a huge issue of terrorism, but at the same time they all need to take one thing into consideration, which is that everyone approaches and reads the issue differently. The Governor went into details of the problems Afghanistan faces today, and he felt the only way a resolution will occur, is when a new Mesaq-e-Milli (where all Afghan groups have political space), will be formed by the country.
He also made sure to point out the fact that the role of Pakistan is very small in terrorist and militant activities of Afghanistan when compared to Afghanistan's own role. This event was riveting in all its aspects allowing all the attendees to go home with great insight provided by the respected Owais Ahmed Ghani.

A group of Pakistan Link interns attended the Governor's address at the World Affairs Council and took copious notes to benefit from his insightful observations.

L to R: Hamid Malik, Syed Ashraf Ali, Ahmed Ali, Mrs. Owais A. Ghani, Mrs. Syed Ibne Abbas, Hashir Malik, Samin Faruqi and Masud Malik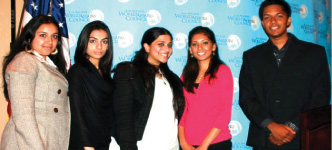 Pakistan Link interns at WAC (left to right): Shazia, Anam, Sumarah,
Vageha and Zain
-------------------------------------------------------------------------------------