FOP Organizes Independence Day Celebrations in Los Angeles
By M. Zafar Ullah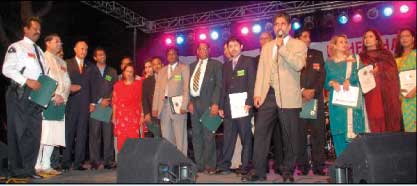 Group photo of the FOP organizing committee with Sheriff Lee Baca. FOP President Sarfaraz Khan introduces his team to the audience
Friends of Pakistan celebrated the 60th Independence Day of Pakistan at the Exposition Park on Friday (August 10, 2007) with great joy and enthusiasm. It is estimated that a crowd of over 8,000 people showed up to enjoy the event.
The event was organized by the Friends of Pakistan, which was led by Sarfaraz Khan, Founder and President of the Organization. Friends of Pakistan operates as a non-profit organization and aims to provide a platform to the Pakistani Americans at the grass-root levels to strengthen Pakistan-US ties and serve as a bridge between Pakistani-Americans and the community at large.
The event kicked off at around 8pm. After a brief musical break, Mr. Khan took to the stage.
He thanked the audience for making Pakistan's Independence Day celebration successful. He talked about maintaining unity amongst the Pakistani community's members to make Pakistan strong and stable both at home and abroad. He also hoped and asked everyone to put together a 'community center' for Pakistanis where everyone could enjoy and celebrate their festive occasion in one place. He also thanked the organizing committee members for their hard work and dedication to put up such a grand event. Later he introduced the Chief Guest, Sheriff of Los Angeles County, Lee Baca who received by a thunderous applause from the crowd. Mr. Baca thanked the organizers including Mr. Khan and the organizers committee for their selfless devotion and hard work to make the event a success.
Mr. Baca fondly recalled his visit to Pakistan where he was accorded a warm and hearty welcome by the hospitable citizens of Pakistan. Later he distributed certificates of appreciation from the Sheriff's department to the organizing committee members of the Friends of Pakistan.
After the certificate distribution ceremony the second part of the program consisting of the cultural song and dances was started.
Everyone from young and old enjoyed the festive mood of the event. Songs and dances both from local and popular talented artists drew the most attention from the audience. Popular singers like Taranum Naz, Rabi Pirzada, Sajjad Ali and T Ali mesmerized the highly charged crowd. As one young Pakistani American teenager remarked, this type of event puts you in a patriotic mood for the younger generation. Besides this wonderful event, there were a wide range of vendors who put up different stalls and booths in the lush green lawns of the Exposition Park.
The food booths did a brisk business by serving mouth watering delicious foods.
It was a one of a kind event and everyone enjoyed every minute which lasted till past midnight.
The Consul General of Pakistan in Los Angeles, Syed Ibne Abbas also graced the occasion.
The event was thoroughly enjoyed by the large number of Pakistanis who had gleefully turned up at the Exposition Park on August 10, 2007 to celebrate the 60th Independence Day of Pakistan.
-------------------------------------------------------------------------------------