Mujtaba Hussain Wins Coveted Award
By Syed Arif Hussaini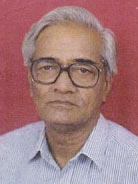 Mujtaba Hussain, the eminent Urdu writer, wit and humorist, has been honored with the award of the much-coveted "Padma Shri" by the Government of India on Republic Day – January 26, 2007.
A prolific writer and a humorist par excellence, Mujtaba has to his credit no less than twenty books carrying his writings over the past 40 years. His writings had already earned him over half a dozen literary awards from different academic association. Encomiums have been showered on him by eminent writers like Mushtaq Ahmad Yousufi, Ale Ahmad Saroor, Nisar Farooqi, Aqueel Danish, Mushfiq Khawaja - to mention just a few names. They accept him as a prominent architect of wit, humor and satire on the contemporary Urdu landscape. His witty, rueful, entertaining, wise, commonsensical, and always-piquant writings had carved a distinct niche for him years back. The award has thus come late; but, it is the fourth highest award of the country and this year's list carries only his name among the recipients of an award for Urdu literature.
Mujtaba, 71, hails from a high-achieving family of Hyderabad Deccan with an exemplary dedication to Urdu language. His elder brother, Ibrahim Jalees, is often remembered for his contributions to Urdu satire and Urdu journalism. His masterly satire "Chalees Crore Bhikari", which he wrote while still in his twenties, is regarded as a classic. He was editing daily Masawat, Karachi, when he died of a heart attack. Mujtaba's another brother, Mahboob Hussain Jigar, was one of the founding fathers of daily Siyasat of Hyderabad that still commands considerable prestige and circulation. The combined dedicated service of the three brothers to Urdu language works out to over one hundred years.
Mujtaba's writings stand out for the simplicity of language, absence of repetition or over-lapping of themes. His racy style and smooth flow of pen have been lauded by all his contemporaries. A consistent quality that one notices in his writings is his anecdotal style. Irrespective of whether he is writing a column, an essay or the profile of some prominent figure, he fits it into the genre of short story. This technique holds the attention and curiosity of the reader while the subtle blend of wit and humor into the story add further to its taste and texture. Then, he appears to be revealing to people things they knew but did not know they knew. His incisive insight picks up the odd, his racy pen draws its sketch and his impish brush gives it colorful touches of humor.
Enthusiasts of Urdu language and literature residing in North America have the advantage of easy access to four volumes of his selected writings brought out from Chicago by another well-known literary and social figure - Hasan Chishti (Ph: 773-743-1705).

-------------------------------------------------------------------------------------