Pakistani Filmmaker Directs Academy Award Nominees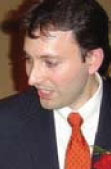 Babar Ahmed
Babar Ahmed, a Washington DC-based, Pakistani filmmaker is behind the action thriller "Royal Kill".
Pat Morita, who played 'Mr Miyagi' in "The Karate Kid" and is an Academy Award nominee, makes his final performance in this movie. Academy Award nominee Eric Roberts also stars, alongside Lalaine from the hit TV show "Lizzy McGuire". Gail Kim, a professional World Wrestling Entertainment champion, plays the assassin. And Alexander Wraith plays the noble guard.
The story is about a fierce assassin who is sent from the Kingdom of Samarza to Washington DC . The assassin's mission is to kill a teenage girl who is the last living heir to that Kingdom. A noble guard is sent to America to protect the girl.
The movie is in the final stages of editing and will be making its festival premiere later in summer followed by a general release.
According to NBC 4 television Babar Ahmed is part of 'the new breed of filmmakers who make movies which look good on a budget'. Babar has received headline news on BBC world television, NBC 4, and CH 9 WUSA. He has been covered in major trade papers such as Variety and The Hollywood Reporter. Babar's first full length feature film "Genius" was released nationwide in America on video in over 2000 stores, screened in the official sections of film festivals across the world, covered in major news, and picked up 3 international awards. The film was especially noted by major reviewers for its impactful ending. Variety Magazine (America's most established film magazine) described the end twist of "Genius" as 'an impressively orchestrated unexpected zinger'. Babar has taught the 'Honors Filmmaking' course at George Washington University in Washington DC. He is a graduate of Cambridge University in England and has received the certificate for Advanced Filmmaking from New York University.
-------------------------------------------------------------------------------------