Consul General Meets San Francisco Bay Area Community
A Pakistan Link Report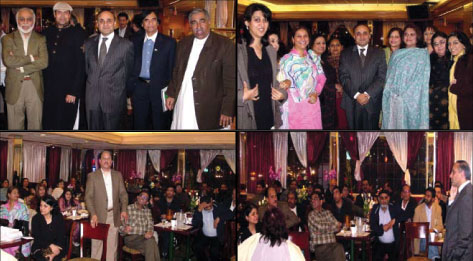 Consul General Syed Ibne Abbas meets members of the Pakistani-American community in San Francisco Bay Area
The Consul General of Pakistan in Los Angeles, Syed Ibne Abbas, took some time out from his busy schedule to visit the San Francisco Bay Area on February 7th. Pakistan Link caught up with him at the Salt and Pepper restaurant in Fremont where just over a hundred members of the Pakistani-American community gathered to interact with him along with local Pakistan Association of San Francisco (PASF) officials.
After dinner, PASF President Anwer Siddiqui spoke of the need to galvanize community efforts to improve Pakistan 's "Brand Image" in the United States . Mr. Siddiqui said that Pakistanis are basically a hard working, industrious people and contributing members of any society that they reside in. He also took the opportunity to introduce the Consul General.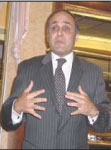 Consul General Syed Ibne Abbas delivers
his speech
Syed Ibne Abbas is relatively new at his position as Consul General but he seems to have adjusted very quickly in his new role. He said that it was his pleasure and a privilege for him to be here in an atmosphere which almost felt like a home, away from home. He thanked everyone for coming on the Saturday night and said that in his brief period here in California, he already knew that this community has proven that its members care for their country of origin. He was especially admiring of the role played by Northern California Pakistani-Americans
just after the October 2005 massive earthquake in Pakistan . "Aap logon nay haq ada kar diya," he said. He said that he saluted this community which was a model for Pakistanis all over the world and a source of inspiration too. He said that Pakistan was our motherland and America our new homeland and that we should aspire to be good citizens.
The Consul General also stressed the need for networking beyond the community and called for unity within. "You have to be inclusive," he said. He added that both our younger generation and non-Pakistani friends should be a permanent feature of our programs. He said that Pakistanis had a rich culture and heritage to share. He asked that people should not visit the Pakistan Consulate only when they have problems. He said that the Consulate was planning on keeping open on one Saturday every month to service the community which has difficulty making it there during the week.
"This year we will celebrate the 60th Independence Anniversary of Pakistan," he said. He added that it would be another opportunity to utilize for sharing our culture with the mainstream here. Abbas Sahib also took the opportunity to answer questions from people who were in attendance at the gathering.
-------------------------------------------------------------------------------------