PAL-C Promotes India-Pakistan Peace Process on
Capitol Hill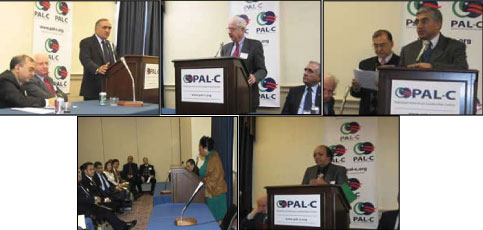 L to R: Ambassador Durrani, Ambassador Dennis Kux, Abdul Majeed Matoo, Congresswoman Sheila Jackson-Lee and Mowahid Hussain Shah
Washington, DC: The Pakistani American Leadership Center (PAL-C) organized a roundtable discussion on Capitol Hill on February 07, 2007 to commemorate "Kashmir Day." The title of the discussion was "India-Pakistan Peace Process: Prospects for Peace in Kashmir." The event was very successful with the hall packed with government officials, Congress staff members, media personnel, and academic experts.
Opening the event, Congresswoman Sheila Jackson-Lee, co-chair of Congressional US-Pakistan caucus, said the United States has the resources to assist in diplomacy and political reconciliation around the world and spoke of her efforts for recognition of contribution Pakistan has made internationally and the sacrifices it has made. Congresswoman Lee referred to challenges in the region including Kashmir and Afghanistan and said that "we have to address this question of recognition of challenges in the region in which Pakistan is situated." She thanked PAL-C for its efforts in promoting an educated dialogue on the peace process and for politically mobilizing the Pakistani community.
Dr Maqsood Chaudhry, National Director of PAL-C, in his introduction expressed support for President Pervez Musharraf's four-point proposals as offering the way forward, and urged all parties to be open to new ideas and vision. Dr. Chaudhry emphasized PAL-C's desire for regional peace in South Asia and insisted that Kashmiris be an integral part of the peace process.
Dr. Ghulam Nabi Fai, Executive Director of the Kashmiri American Council (KAC), moderated the roundtable discussion that included Ambassador Dennis Kux, Ambassador Mahmud Ali Durrani, Mr. Mowahid Hussain Shah, and Mr. A..M. Mattoo. Dr. Fai observed that there are four parties to the Kashmir conflict - Pakistan, India, Kashmiris and the international community - and said all of them must work for the resolution of the UN-accepted dispute. Dr Fai stated that Pakistan and India issued a significant statement after a meeting between President Musharraf and Prime Minister Singh and said Washington has been encouraging the two sides to make progress. "The international community must express its support for Pakistan-India peace process," he said and endorsed the two countries exploring all possible options for a settlement of the Kashmir dispute.
Syed Mowahid Hussain Shah, adviser to Punjab Chief Minister, delivered an impassioned speech in which he insisted that the peace process and the killings in Kashmir could not go together. He said no peace formulas would work if the injustices continued. Kashmir, he added, was a moral issue, not a dispute over real estate. He said Kashmir was occupied but the people of Kashmir remain unconquered as force cannot change the hearts of a people. He referred to US Senator Chuck Hagel's recent statement that Kashmir being a flashpoint needs immediate attention and said the dispute should not be allowed to linger on. "With vision, will and moral imagination, this issue can be resolved." He said it should be remembered that state violence bred individual and private group violence. The current peace process reflected the popular mood, but if no significant progress was made, the mood would not last. He also warned against an "elitist" approach in resolving the Kashmir issue, stressing that "unless it resonates on the street," it would simply not work. India, he said wanted to be a big power, but it must also acquire a big heart. The solution of the Kashmir dispute must be democratic, he stressed.
Abdul Majeed Mattoo, a Kashmiri author, said the Kashmiris have suffered gravely for 60 years at the hands of Indian forces. Quoting recent instances of killings, he said the situation in occupied Kashmir is hurting the democratic credentials of India. Mr. Mattoo provided an eye-witness account of ground realities in Kashmir and urged American policymakers and the international community to highlight the plight of the Kashmiris and to be sympathetic to their cause. He supported the Pakistan-India dialogue but said Kashmiris' voice should be heard in the process. Mattoo urged India to respond positively to Pakistan's peace overtures.
Ambassador Dennis Kux of Woodrow Wilson Center of International Scholars, said progress towards resolution of the Kashmir dispute requires mutual confidence between Pakistan, India and the Kashmiris. The author of several books on South Asia told the meeting that it had always been hard to solve inter-state disputes and Kashmir would be no exception. He said the two countries have to show flexibility and find some mutually accepted basis for compromise. Kux said the mere fact that the two countries have kept the dialogue process going, shows desire on part of the leadership. He said President Pervez Musharraf had dumped the UN Security Council's Kashmir Resolutions and the old demand for a plebiscite as a practical means of resolving the issue. India, he pointed out, welcomed a "soft borders" approach in Kashmir. India should also give more on Siachin than it has. Once Siachin is out of the way, the Sir Creek dispute could be next in line for a settlement. He noted that India and China still had their main dispute in place but had chosen a step-by-step approach. Kux was of the view that Washington could be "a little more pushy" with India and Pakistan as they slowly moved towards an eventual settlement on Kashmir.
Pakistan Ambassador to the United States Mahmud Ali Durrani expressed "cautious optimism" about what he called a "slow but qualitative" improvement in India-Pakistan relations. Only a movement forward in relations between the two neighbors can resolve the Kashmir issue. He was of the opinion that there were three strands in relation to the Kashmir problem: official contact, back channel diplomacy away from the glare of publicity, and people-to-people links. The back channel process is active, and because of increased contact, the people of India and Pakistan have rediscovered each other. Pakistanis visiting India and Indians visiting Pakistan have only encountered friendship and camaraderie. Durrani said India should remove its excessive military presence from Kashmir and human rights violations should cease. He said Pakistan was prepared to demilitarize its side of the Line of Control. What was needed was greater political space for the Kashmiri people and the continuation of an intra-Kashmiri dialogue, which would assist the peace process. He said Pakistan had shown great flexibility on Kashmir in an attempt to settle the issue and India needed to do the same. "However, there is no serious indication of any such flexibility on the part of New Delhi," he added. He stressed that the present opportunity to come to terms on major outstanding disputes must not be missed because it may not come again. Pakistan, he added, was ready to go along. Today, he said, India had a comfortable relationship with the United States, and Pakistan and Washington also enjoyed good relations. While the US cannot force either side, it can certainly be helpful.
The discussion was followed by an engaging "Question and Answer" session.

-------------------------------------------------------------------------------------