Women Founders of Pakistan Honored
By Ras H. Siddiqui

Left to right: Afira Ahmed, Abira Ashfaq, Zeba Ansari, Hamda Khan, Lisa Ahmad and Mehnaz Naqvi
The Pakistan Founders Celebration Committee (PFCC) held its 3rd Annual Banquet to celebrate the birthday of the Quaid-i-Azam on December 25, 2006 (Christmas Day) at the Chandni Restaurant in Newark , California . This sold-out event in which close to 800 people participated not only honored the founder of Pakistan , M. A. Jinnah but also for the first time recognized the women that assisted him in the creation of a brand new country on the South Asian political-geographical landscape.
The day started on a scholarly note with a special event on Mirza Ghalib, recognized as the greatest poet that the Urdu language has ever produced. Jawed Umerani and Professor Ahsan Syed, "Adeeb-e-Kamil" (M.A.), Aligarh Muslim University conducted this session, not just for scholars but also for a select few from our next generation of Pakistani- and Indian-Americans who have taken a surprising interest in the language, to the extent that both the ICC and now the local Silicon Valley Pakistani American Center are offering Urdu language (SVPAC classes start January 14, 2007. please call 408-656-7818 for details).

Left to Right: Nasreen Aboobaker, Naveeda Elahie, Sabahat Rafiq, Sebha Sahab and Seema Karimi
Before moving further into the evening program, a little more background is in order here. Almost all Pakistanis are aware of the men that carried forward the Muslim demand for a separate homeland as " British India " exited from the scene. But little is known about the women involved in the epic struggle except that some were married to the luminaries that we are already aware of. Pakistanis do express some knowledge of the Quaid's sister Mohtarma Fatima Jinnah and to a very limited extent his wife Ruttie Jinnah. But there were a score of others that have received little attention, with Begum Rana Liaqat Ali Khan being the rare exception (mainly for work done after the birth of Pakistan). There were number of others who are just too numerous to list here.

Left to right: Dr. Ahsan Syed, Shamim Khan, Javed Ellahie, Omair Khan, Omar Khan and Omar Mohammed
Examples like Begum Jahan Ara Shah Nawaz, Lady Abdullah Haroon, Begum Salma Tasadduque Hussain, Begum Muhammad Ali Johar, Lady Maratab Ali, Fatima Begum, Mrs. Shaista Ikramullah and Begum Viqar-un-Nisa Noon (just to name a few here). If one was to just start to do some research on them, it would reveal volumes about who founded Pakistan.
Just at a glance it was an effort that crossed sectarian lines as these women were from both the Shia and the Sunni sects. They even crossed over religions and ethnicities. From Bengal to the NWFP, of outside/foreign origin (Lady Haroon was born in Iran and Begum Noon was an Austrian by birth), these women worked for the creation of a Muslim homeland called Pakistan. And let us not forget about the Ahmadi contribution either. And last but not least two very special names come to mind, that of Mumtaz Shah Nawaz and a young lady by the name of Fatima Sughra (or Lady Ghulam Hussain Hidayatullah). We will revisit them at the end of this report.
The evening formal program started with Tilawat. Emcee Omar Khan from the Jaiza program (on Geo TV) did the introductions and played many other roles this evening (fine job as expected from Omar). Representing the PFCC Steering Committee Javed Ellahie made a short speech during which he stressed that this event was more like a family get-together (certainly a very large and sold out one Javed!). He also highlighted the Student Essay Contest, the Photo Exhibition and other features of the event (a fine Chandni Dinner included). Javed also thanked his wife Naveeda Ellahie for her efforts as Chair of the Steering Committee towards making this evening a success. Khoosnood Khawaja next presented a Naat.

Two groups of the audience at the Chandni Restaurant
Javed and Omar next called Dr. Waheed Siddiqee to the stage for the Community Service Award Presentation. An award was presented to the family of the late Hassan Jahangir Hamdani for his long years of fine service to our community in Northern California. His loss will be felt for years to come. Raana Faiz of the Hamrahi Radio Program was also recognized for her long years of service here as was Dr. Ahsan Syed for his promotion of the Urdu language in Northern California. How the name of Ras Siddiqui got in there, I will never know, because I certainly do not deserve to be in the company of the others honored at this event (but thanks, because coming from the Pakistani-American community it means a great deal).
The trio of Abira Ashfaq, Nasreen Aboobaker (fine job with the Photo Exhibit) and Sabahat Rafiq next set the tone of the "Women Founders of Pakistan" event. Abira gave examples of the contribution of women to the country and reflected on the current state of women in Pakistan. The recent passage of the Women's Protection Bill in Pakistan was also highlighted. Nasreen hoped that the people in attendance here take back something valuable from this program (a new awareness of women and their role in Pakistan). Sabahat took the women's role and the Pakistan movement all the way back to 1857, then revisited the Khilafat Movement before moving on to the concluding phase of Pakistan's painful birth and the sacrifices that women made during that time.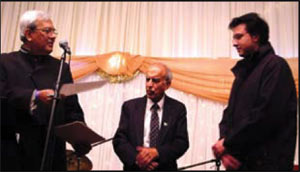 Javed Ellahie and Dr. Waheed Siddiqee present award to Hamdani family
Javed, Omar and Sabahat next presented awards to area youth who wrote some fine essays on the Women Founders of Pakistan. Sehba Sahab, Omar Mohammed and Zeba Ansari received monetary awards and Hamda Khan got a special mention. It was great to see that our youth are participating in such competitions. Sabahat Rafiq, Abira Ashfaq and Khadija Syed were the judges of the contributions and I must add that I'll look to the writings presented on the Program Souvenir for future inspiration myself. And speaking of inspiration Italian-American Lisa Ahmed's short speech in Urdu was certainly inspiring. Her Mirchi Restaurant is all about fusion cuisine that our community needs to try with their local friends.
Since nothing moves Pakistanis more than poetry, the presentations of Afira Ahmed, Seema Karimi and Mahnaz Naqvi were well received. Both English and Urdu language poetry was presented to the gathering. Afira's "Let the Flames Burn" and Seema's poem on Pakistan were worthy of our attention. These young people are our community's future and made us proud. Mahnaz Naqvi presented her thoughts and those of others. She was absolutely correct in saying that women poets do not get the recognition that men do. Mahnaz presented the works of women writers Ada Jafri, Zahra Nigah, Fahmida Riaz, Kishwar Nahid, Parvin Shakir and our very own Noshi Gilani, along with her own "Aao Aik Bar Phir Say Mil Jayain, a fine call for community and national unity.
Annie Akhtar's effort of gathering community photos was presented during dinner. Omar Khan presented a Video Montage on Cricket (vocals by Junaid Jamshed) and one on National Songs. He also conducted a memory lane competition on Lollywood movie presentations which generated some enthusiastic audience participation.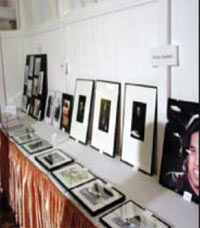 Photo Exhibition
The Entertainment segment started quite late with hilarious skits by Mujeebullah and Naveeda. Faraz Ellahie presented a "Guitar Aunty Song". Young emerging talent in the form of Omair Khan started off another singing segment followed by Shamim Khan from Canada who did a fine job in spite of sound problems. But it was Naveeda Ellahie who stole the evening with her skills at comedy. She possesses a great sense of humor and natural talent for comic delivery.
The program ended with the singing of the Qaumi Tarana (national anthem) and Sohni Dharti. And that brings us back to two names mentioned earlier during this report, those of Mumtaz Shah Nawaz and a young lady Fatima Sughra. During 1947 Mumtaz Shah Nawaz, made a green flag out of her own dupatta, climbed up the jail building where many of Pakistan 's supporters were confined and set in on top shouting "Allah-o-Akbar" (God is Great) and "Pakistan Zindabad". At the Punjab Secretariat building, the seat of the bureaucracy, in Lahore, young Fatima Sughra climbed over the gate, pulled down the British Union Jack and replaced it with the green Muslim League flag, which she, too, had made out of her own dupatta. Such were the women founders of Pakistan.
(Thanks are in order to the entire PFCC Steering Committee and the program sponsors for this wonderful reminder of not only the Women Founders of Pakistan and the past, but hopefully our country of origin's future as a gender equal and religious-sectarian tolerant nation. Incidentally, that is what the Quaid-i-Azam had in mind).


-------------------------------------------------------------------------------------