Ambassador's Eid Message to Community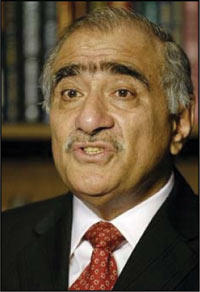 The Pakistan Ambassador in the United States has extended his heartiest greetings to the Pakistani-American community on the occasion of Eid-ul-Adha. In a message the ambassador said that the occasion reminds us to render sacrifices to the will of God and at the same time remember the poor and the needy.
The Ambassador also congratulated the Muslims who have performed Hajj this year. He said that the Hajj is one of the articles of our faith and signifies the unity of the Ummah as millions of Muslims gather in the holy city of Mecca to perform Hajj.
The Ambassador said the true spirit of Islam is to sacrifice for the well-being of the humanity. It is incumbent upon us to follow the traditions laid down by Holy Prophet Muhammad (Peace Be Upon Him) fourteen hundred years ago to live in peace and harmony with other communities regardless of their race and color.
The Ambassador also extended his best wishes to the Pakistani community for the year 2007.

-------------------------------------------------------------------------------------