Stockton Celebrates Eid
By Zaki Syed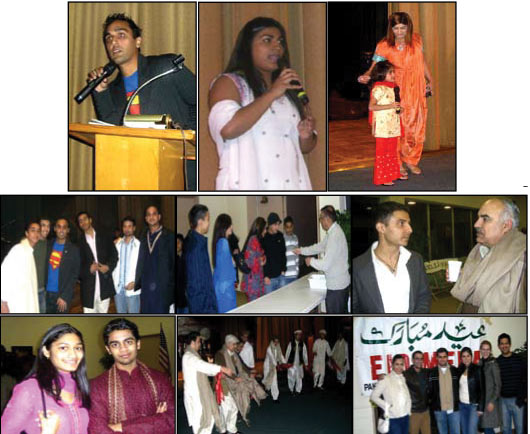 Glimpses of the Eid celebrations in Stockton
Hidden in the depths of California, there is a close-knit group of Pakistani-Americans that resides in a city known as Stockton. Just like all other Pakistani-Americans throughout the country, they felt inclined to celebrate Eid in the form of a Mela. However, unlike most Melas or functions nobody famous or with celebrity status came to perform. All the talents were local, to them everybody is a superstar, and in the city of Stockton they believe in performances "for the people, and by the people".
Stockton's Eid Mela was held in the Scottish Rite Masonic Center, and hosted by PAAS (Pakistani American Association of San Joaquin). The program started with the traditional ritual of a prayer performed by a very young child Mina Sheikh. It was followed by a performance from a group known as the Lil Pimpjabis who performed a dance to excite the crowd and get them going. The Shining stars came next and also performed a dance to the hit song "Mahi Veh". In order to attract the older generation as well there was a classical dance performed by Rosleen Sandlas. Sandlas was a hit and at the end of her performance had the audience chanting her name over and over again.
What would a Mela be without a comedy? That's what the Chatpata crew thought and performed a skit mocking the day-to-day activities of the South Asian culture. Performer Chirag Vaid had this to say, "It's a unique way to celebrate culture, without having to sit through a dance". Vaid is most proud of the fact that his group is very diverse and comes from a vast array of backgrounds.
After their performance, Rosleen hit the stage once again along with her friend Jasmine to perform a live song. The Shining Stars also returned to the stage for a fashion show, and awed the crowd by showing and displaying clothes from all the four provinces of Pakistan. Another dance was performed and this time by Reena Patel, who got crowd pumped up once again.
American hip hop culture has influenced Pakistani-Americans and was evident as Zaki Syed got up and performed a rap song entitled "Eid Mubarak". He had the crowd chanting "Mubarak" along with him. He followed his songs performance by a freestyle in which he did impromptu raps to topics members of the audience gave. The next performance tied many of the audience members back to their roots with a traditional Pakhtoon Dance. This dance being extremely popular in the regions of NWFP of Pakistan, the audience was awed, amazed, and excited beyond belief. The Lil Pimpjabis returned to perform a Bhangra dance. Jasmine Sandlas also returned to perform live song. Prizes were then given away in raffle drawings, and there were live performances by a band known as BaDal, with their lead singer Zulfi Rizvi performing classical songs on a techno beat. To end the Mela, traditional songs were sung by Amir Shankar and Pretika.
The Mela was a success, with audience members dancing in front of the stage during the bands performance, and youth having freestyle rap competitions with each other during break. It also attracted a diverse group of people including Muslims, Hindus, and nearby Americans in the area. However, the success of the Mela did not come without hard work. There were around sixty volunteers, and Zulfi Rizvi took charge of coordinating and directing the performance. Zulfi worked endlessly to make the Mela work, by holding rehearsals for the performances to ensure that there wouldn't be any mistakes. Besides he used his contacts from school to invite people from the outside to come and enjoy the Mela.
Shakeel Ahmed the director of PAAS said this event was put together in an educational effort and to promote cultural awareness. In the future, he says, PAAS plans to participate in more events, and currently are involved in activities such as supporting CAIR and fundraising for homeless shelters. He also emphasized the need for the community to get involved in such undertakings.
Shabbir Khan the elected tax collector for San Joaquin valley agreed, and urged young people to get involved in events such as the Mela, locals events, and politics. "The people of America support you, if you are honest and hardworking with your community," said Khan. Shabbir Khan and Shakeel Ahmed are right; it is important to get involved, but it is no longer a matter of choice, it is now a matter of survival.
"If they (Pakistani-Americans) don't get involved they will be a forgotten part of society," said Saiyad Ali, Board Member of PAAS. If we don't continue participate in Melas, and other events not only will our children forget about their culture, but society will as well. So continue to help out and get involved. Remember your past and pave ways for the future.

-------------------------------------------------------------------------------------