Senate Chairman Visits Islamic Society of Orange County
Pakistan Link Report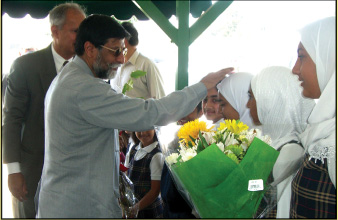 Senate Chairman Mohammadmian Soomro arrives at ISOC
Garden Grove, CA: Senate Chairman Mohammadmian Soomro visited the Islamic Society of Orange County (ISOC) on Friday, July 20 to demonstrate the respect and importance that the Government of Pakistan accords to religious institutions and places of worship. He offered Friday prayers at the mosque and later joined community members at a lunch in the ISOC cafeteria.
Mr. Soomro took questions from the community members and allayed their concerns relating to a number of issues. He wholeheartedly concurred with Dr Muzammil Siddiqui's observation that the mosque should promote harmony and understanding between various groups and faiths rather than be a dump of arms and a catalyst for violence. "Masjids don't have to play the role of the Lal Masjid," he remarked, adding, the government showed utmost restraint in dealing with the militants to minimize casualties during Operation Silence. He added that the people of Pakistan were by and large moderate and peace-loving individuals and only a fringe group made up the extremists. It was unfortunate that their militancy served to distort the true teachings of Islam and has given the religion a bad image, nationally and internationally.


L to R: CG Syed Ibne Abbas, Javed Nawaz, Mohammadmian Soomro and Dr. Muzammil Siddiqi
Supplementing this argument, Dr Muzammil Siddiqi, Director of ISOC, unequivocally stated: "We condemn the use of the masjid for politics… collection of arms in masjids is something that is not acceptable in Islam…".
Mr Soomro complimented the Muslims in the US who "were doing a good job and telling others about Islam." He lauded the Pakistani-American community's support in strengthening institutions in Pakistan. "Thank you for the support given to Pakistan." He also served the community with a well-meaning advice: "Your children should go to Pakistan to keep their links with the country."
The Senate Chairman was confident that overseas Pakistanis could play a major role in bringing about a wholesome change in the economy of Pakistan. He spoke of the "tremendous opportunities" that exist for investment in a number of sectors, including power generation, information technology, mining, housing, and infrastructure development. "Investors are making good profits," he remarked, and any initiative on the part of an enterprising businessman could be highly rewarding.


Senate Chairman Mohammadmian Soomro with Consul General, ISOC officials and prominent community members
Mr. Soomro assured the gathering that democracy was taking roots in the country. "We have a parliament that is elected and a President who is elected by the parliament. The parliament approves the budget. The legislation has to come through the parliament. It is a democracy," he told the community members.
Prominent among those who attended the lunch were: Dr Muzammil Siddiqi, Consul General Syed Ibne Abbas, Shahid Tarar, Javed Nawaz, Ismail Manju, Abdul Qadir Najjad, Dr Naqvi, Hamid Malik, Ahmed Ali, Arif Merchant, and Karim Raza.


-------------------------------------------------------------------------------------