MPAC Director Debates Controversial Author Irshad Manji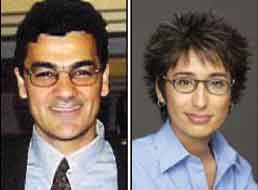 Los Angeles, CA: Recently, Muslim Public Affairs Council Executive Director Salam Al-Marayati participated in a lively discussion and debate with author Irshad Manji ("The Trouble with Islam") and Muslims for Progressive Values co-founder Ani Zonneveld, hosted by PBS affiliate KCET in relation to their special series entitled ";America at a Crossroads".
Click here to listen to the full audio from the hour-long discussion now or visit http://www.kcet.org/explore-ca/on-demand/podcasts/.
Following a brief preview of Manji's documentary "Faith Without Fear", the panelists engaged in a debate about reform, diversity, freedom of speech, theological and political schisms within the Muslim world, efforts to make progressive changes with regard to women in Muslim societies, the state of Muslims in America and Europe, and how Muslims in the Middle East perceive the West.
Presented by the Los Angeles Public Library ALOUD Lecture Series and KCET, the panel was moderated by award-winning journalist Val Zavala of KCET's "Life and Times".
Irshad Manji is the author of "The Trouble with Islam Today", and Ani Zonneveld is the co-founder of Muslims for Progressive Values.
As always, MPAC welcomes your feedback on this discussion. Please send your comments to info@mpac.org.

-------------------------------------------------------------------------------------