Arif Mansuri Acquires Pakistan Link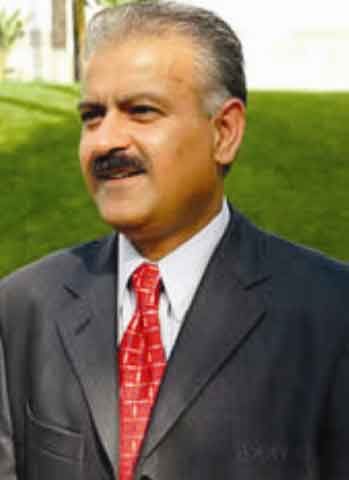 Newport Beach, CA: Well-known industrialist and community activist Arif Zaffar Mansuri has acquired PL Publications, LLC, the publisher of Pakistan Link. He assumed the office of President and Managing Editor on May 14, 2007.
An active member of several Pakistani-American and mainstream American associations, Mansuri enjoys immense popularity in the community. He has been instrumental in organizing many community events and fundraisers and is highly regarded for his patronage of learning and scholarship.
Mansuri regards Pakistan Link as a national heritage that he has come to share, not own, with fellow Pakistanis. "I am thankful to God that He has given me the opportunity to serve my dear country, Pakistan, and the Pakistanis residing in North America. I feel honored to be the current caretaker of this precious heritage.
"I admire the Pakistani-American media, including the many newspapers, magazines, radio, TV and the Internet. However, very few of these have a direct focus on the mainstream American community and its policymakers, think tanks and interfaith groups. Pakistan Link is among those who have traditionally served this crucial role, and it is my dream to have it serve as an even stronger link in the future between the Pakistani-American community and the mainstream American community."
Mansuri urges the community to support Pakistan Link by submitting feature articles, opinion pieces and poetry, taking subscriptions and placing advertisements. He also warmly welcomes suggestions, critiques and letters to the editor.
Prominent community members have welcomed Mansuri's taking over of Pakistan Link and have greeted him with many congratulatory messages. Literary circles, too, have expressed optimism that Link's already well-respected literary standing will reach even higher levels; for years, Mansuri has been associated with the Urdu Writers Society and has figured prominently in other literary circles.
Mansuri is a Director of the Pakistan American Leadership Center (PAL-C). He presides over the Council of Pakistan American Chamber of Commerce (CPACC) and is a Board Member of the Southern California Organization of Pakistani Engineers (SCOPE). He is also a member of the Federal Bureau of Investigation's (FBI) Multi Cultural Advisory Committee (MCAC) and Vice Chairman of the Los Angeles County Sheriff's Pakistan Advisory Council.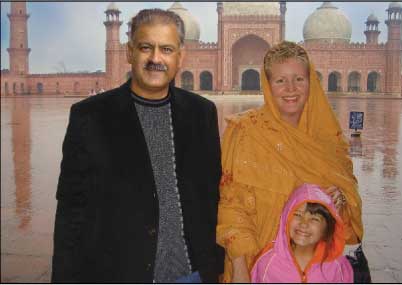 The Mansuris in the Badshahi Mosque, Lahore (March 2007)
Mansuri holds a Bachelors degree in Mechanical Engineering from NED Engineering University, Karachi; a Masters degree in Industrial Engineering from Texas Tech University, Lubbock, Texas; and an MBA degree from Pepperdine University, Malibu, California.
Mansuri is the President and CEO of Metals & More, Inc., a California-based importer and wholesaler of stainless steel. He is also the Director of Tubular Specialties Manufacturing, Inc., a manufacturer of washroom accessories and handrails/railing systems with a manufacturing plant in Los Angeles and warehouses at various locations across the U.S. He is also the Director of Huntman LLC, a California-based investment company with commercial and residential real estate holdings in California and Arizona.
Mansuri has been married to Zaib-un-Nissa (Debbie) for eighteen years and has a five-year-old daughter, Jazmyn. Zaib shares her husband's zest to promote the media. "For years I have watched Arif faithfully read Pakistan Link every week. He is truly dedicated to this wonderful newspaper and is very excited about this new opportunity. It is a dream come true for him."

-------------------------------------------------------------------------------------