Faakhir Joins Battle against Smoking in Pakistan
Pakistan Link Report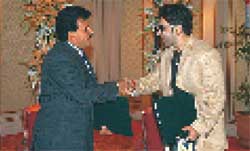 Federal Minister for Health, Mohammad Nasir Khan with Faakhir after the
signing of the MoU
In a high-profile event to mark the World No Tobacco Day in Islamabad recently, leading pop artist Faakhir was appointed Ambassador for Tobacco Control in Pakistan . An MoU was signed in this regard between the Federal Minister for Health, Mohammad Nasir Khan and Faakhir. The World Health Organization chief in Pakistan was also present.
Speaking on the occasion, the Federal Heath Minister said a role model like Faakhir had the ability to inspire youth to lead a healthy lifestyle. He said it was his firm belief that Faakhir being a well-known celebrity would be highly successful in dissuading our youth from tobacco use.
Faakhir in his remarks said he was convinced that he could play a positive role in preventing the youth of Pakistan from falling victim to the machinations of the tobacco industry. "Music is a driver of emotions, and it works if you strike the right chord", Faakhir said, before he announced that he will release a song called 'JIAY JA' to initiate a campaign against smoking and drugs and also create awareness about healthy lifestyle!
It was also announced during the event that the Ministry of Health is clamping stricter restrictions on tobacco advertisement in Pakistan as part of a renewed initiative to secure 100 percent smoke-free environments. The Ministry will also discourage the setting up of designated smoking areas.

-------------------------------------------------------------------------------------