A Look Back at OPEN as Forum 2007 Tests Exuberance
By Ras H. Siddiqui
Hatim Tyabji's keynote address at OPEN 2004

President Musharraf via Teleconference at OPEN 2006

Dr Ishrat Husain addresses OPEN 2005
"OPEN Forum 2007: Rational Exuberance," on June 16, 2007 brings the Organization of Pakistani Entrepreneurs of North America (OPEN) - Silicon Valley chapter to another important milestone since its inaugural event.
Pakistan Link has been covering this organization since Tuesday, November 13, 2001 with a report from the Crowne Plaza Cabana Hotel in Palo Alto, where the topic of discussion and the focus (so eloquently opened and closed by the first OPEN-SV President Asim Abdullah) was "Entrepreneurship in the Post Dotcom Era". Moderated by Arif Janjua, the presentation by a panel of experts, Ammar Hannafi, Asad Jamal, Faysal Sohail and Zia Chisti was enlightening. We had concluded in reporting on that event that the only challenge left now is to ensure the continuity of this momentum. It now appears that OPEN Silicon Valley has certainly met that goal.
OPEN Forum 2007 is the fourth annual conference which will be held at the SAP Campus in Palo Alto on June 16. The first forum proved to be very significant. Over the years since 2004 when Idris Kothari, then President of OPEN, introduced former California Governor Jerry Brown at afternoon and closed the forum behind the amazing keynote of Mr Hatim Tyabji (who said, "If somebody tells you that it can't be done, prove them wrong") this organization has continued to gain in stature.

Pak Minister Awais Leghari: Keynote Speaker at OPEN 05

OPEN Forum 2005
In 2005, Zia Yusuf, then President of OPEN, kicked off the day with quotes from Dwight Eisenhower, George S. Patton and even Napoleon Bonaparte whose "A leaders is a dealer in hope" attracted much attention.
OPEN Forum 2005 focused on "The Art of Leadership" as a number of true leaders gathered there from the world of business, high-technology and sports. The number of women in attendance still may have been small but their contribution grew to be significant enough to be mentioned here. With over five keynote speeches, two panels, a fireside chat and four workshops, plus other sessions, along with tea and lunch, the day gave everyone an ample opportunity to network and to learn the ropes about setting up businesses that can attract the attention of Venture Capitalists (VC's) and/or Angel Investors willing to back innovation and ideas. And to top it all, as one added the presence of Pakistani cricket legend, Imran Khan to this mix, the day attracted its share of local, national and even worldwide attention (CNN was there).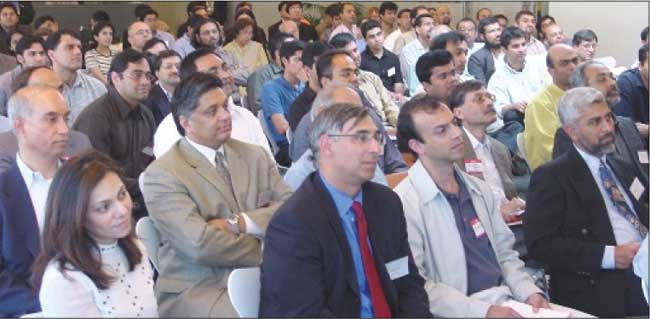 Attendees at OPEN Forum 2004
Open Forum 2006 focused on "The Rising Tide" of optimism in Silicon Valley and was addressed by General Pervez Musharraf via teleconference. Also addressing the gathering were Dr Ishrat Husain, the former Governor of the State Bank of Pakistan, and Asad Jamal, founder and Chairman of ePlanet Ventures). Talks by President Musharraf and Dr. Ishrat Husain did reflect the rising optimism of some people in Pakistan and even here in California's Silicon Valley, where the "Rising Tide" could possibly have been just a stir. But we concluded with the hope that at least the tsunami years were behind us.
It is with this short historical look back that Pakistan Link welcomes OPEN Forum 2007 and shares in its "Rational Exuberance" theme. This newspaper has remained a part of the Pakistani-American community for over 15 years and continues to support Boston origin OPEN whose chapter here on the West Coast is inspiring community members to become business and technology leaders.

Imran Khan at OPEN Forum 2005

Monis Rahman, Babar Ahmed and Hina Chaudhry at OPEN 05
(OPEN-Silicon Valley promotes entrepreneurship within the Pakistani-American community by providing guidance, mentoring, and networking opportunities to its members in order to facilitate their success.)
-------------------------------------------------------------------------------------