OPEN Silicon Valley: An Organization on the March
OPEN SV president Umair Khan talks about fostering strategic partnerships between Silicon Valley entrepreneurs and Pakistan.
By Zunaira Durrani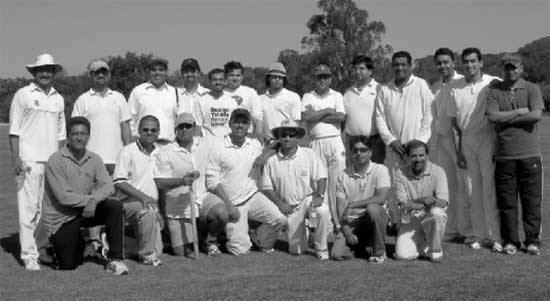 OPEN Silicon Valley chapter members and volunteers enjoy working and playing cricket together. Picture taken at a recent match held in Gilroy
In 1998, six Pakistani entrepreneurs in Boston found themselves in conversation about their daytime pursuits frequently. Linking the Pakistani professional community in the United States with the entrepreneurial environment around the group became an ambition. Following twelve months of informal meetings, the group of six founded the Organization of Pakistani Entrepreneurs of North America, or OPEN.
From Boston, OPEN went coast to coast as the ambition snowballed into a full-fledged organization with a charter. Volunteers, who to this date are the pulse of OPEN, enrolled and encouraged likeminded colleagues to get onboard. OPEN found itself filling a void for bright young Pakistani minds in business, technology, telecom and other sectors vying for a piece of the entrepreneurial action.
With chapters in Houston, New England, New York, Washington DC, and Silicon Valley, OPEN will be heading East with a new addition: Dubai. OPEN is working with institutions locally and globally to offer Pakistanis a path to innovation and success. A recent $50,000 contribution to the MIT Entrepreneurship Center has brought it one strategic step closer to forging lifetime ties and knowledge exchange between Pakistan and the US.
On June 16, 2007, OPEN Silicon Valley will hold its fourth annual Forum in Palo Alto, CA. Here, Silicon Valley chapter president Umair Khan talks about the opportunities in store.

Q: How did OPEN Silicon Valley evolve?
Umair: Back in early 2001, the journey for OPEN Silicon Valley began when friends from Boston and MIT approached Salman Akhtar and me about OPEN. They were narrating their positive experience, saying that they needed East Coast to West Coast transference and presence. We got together a group of charter members and Open Silicon Valley was formed in June 2001.
Q: Does OPEN work with other organizations targeting Pakistani-American working professionals?
Umair: Our focus is the Pakistani American business community, particularly the entrepreneurs and would-be entrepreneurs within that community. The broader community benefits and the Pakistanis back home benefit in the broader perspective. But the focus has been narrow compared to other Pakistani-American organizations. We work with several other groups for instance IOPWE which is focused on women. Their demographic is part and parcel of our demographic. Then there are other organizations that are working for the betterment of the Pakistani community and Pakistan. We, true to our name, are open to partnering with people and organizations that want well for the Pakistani community.
Q: What are the opportunity areas OPEN is eyeing in the future?
Umair: The interesting thing is that OPEN continues to draw its strength from voluntary participation. Certainly, looking at the last six years, how much or how little OPEN has achieved depends on your perspective. It has achieved a sense of stability and regularity, which is difficult to achieve in a decade of existence. Some of the highlights are events like the OPEN Forum which have gained in stature.
I see the strategic initiative we have launched with the MIT Entrepreneurship Center as a major milestone in OPEN growing up. OPEN has sponsored the MIT Entrepreneurship Center by giving $50,000 and becoming a lifetime sponsor. In this way, we are engaging the Center within the Sloan School to work towards improving entrepreneurs within the Pakistani-American community and within Pakistan. As a direct result of that, the Head of the Entrepreneurship Department at MIT has traveled to Pakistan twice to have day-long workshops on entrepreneurship, venture capital, CEO summits -- all of that in Karachi. This is the first time that an MIT professor is teaching there.
All I can say is that OPEN's potential pales its achievements, and it is this potential that drives us all. The great thing about potential is you will never succeed in achieving it, but you will achieve far more than what's possible. That's true of me or you as a person, that's true of OPEN as an organization, and of Pakistan as a country.
Q: What is the nature of OPEN's relationship with the government and the business sector in Pakistan?
Umair: OPEN is apolitical and a secular professional organization. The relationship with the Pakistani government is an open dialogue on all issues of business and commerce. So whenever there is an opportunity to engage the government on business-related matters whether its through our events, annual forum or in private meetings, OPEN charter membership takes the opportunity to hear what the government has to say and the government in turn listens to what we have to say to them. And that dialogue has always been positive starting in 2004 when we had Minister of IT Awais Leghari speak for the first time at the OPEN Forum. Since then, the dialogue has been maintained.
In terms of presence in Pakistan, we have started to think of OPEN as standing for Organization of Pakistani Entrepreneurs, and not just for Entrepreneurs in North America. We will be opening foreign chapters starting with one in Dubai. Likewise, we are talking to people in Pakistan. TiE Pakistan exists and it is a very good organization. We are working with the right people in Pakistan to put together a bridge between Silicon Valley Pakistanis and US Pakistanis.
The business community in Pakistan is aware of OPEN and it makes sense for OPEN to have an office there. Whether it's a liaison office or a full-fledged chapter, that remains to be seen.
Q: Who are the hot shots to watch out for at the upcoming OPEN Forum?
Umair: We have an eclectic lineup. One of the big attractions is Syed Babar Ali, the founder of LUMS who is extremely well respected in the Pakistani business and education circles. Then Sophia Qureshi of Al Jazeera is one to watch, as part of a theme on alternative paths to success. We also have Monis Rahman who created Naseeb Networks. He is a fantastic story of a Silicon Valley resident repatriating to Pakistan and then creating this whole world online. Another one is a Pakistani named Khalid Saiduddin who is a runner up to the 100K MIT business plan competition -- the first time for a Pakistani to reach that high up in the competition. His company is called SaafWater, a social entrepreneurship project addressing the number one need of Pakistan fulfilled by this young student. He will be part of this entrepreneurial idol with two other companies pitching to VCs who, like Simon Cowell, will shred them to pieces (humanely, of course) and we'll see who survives. No entrepreneurs will be harmed in the process!

-------------------------------------------------------------------------------------