Link Booth Attracts Community Members in Fremont

Pakistan Link Report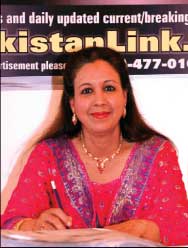 Pakistan Link recently set up a booth at an event held to pay tributes to the creative genius of well-known poet and writer Irfan Murtaza and to accord recognition to his new books – Chanda and Tasweraen. The event was organized by the Karachi University Alumni Association of Northern California and held in Fremont, California. It was well attended by the lovers of Urdu from the local community as well as from far away places.
Pakistan Link representative, Nikhat Khan, who manned the booth reported that the attendees of the event converged at the booth in large numbers. They were happy to see the Link at the event and were curious to know about the new policies of the newspaper after the recent change in ownership. A large number of subscriptions were sold at the event.
Khan said, "This was a very busy and hectic event for us. People kept on coming to our booth non-stop. We were exhausted but thrilled to see such a response".
Pakistan Link is one of the oldest and most liked Pakistani-American newspaper, and enjoys a strong following in the community. Such demonstration of respect and patronage inspire the staff of Pakistan Link to work hard for the community!

-------------------------------------------------------------------------------------