A Glittering, Spacious Restaurant Is Inaugurated in Pomona
Pakistan Link Report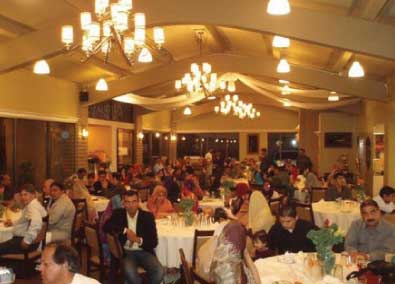 Above: Spacious banquet hall of Shalimar. Below: Glimpses of the inauguration ceremony
The inauguration ceremony of Shalimar Restaurant in Pomona on May 26 was a lively event enjoyed evenly by the invitees and the hosts. Attended by the community's leading lights and prominent figures, the ceremony was held in the spacious hall of the restaurant, by far the most commodious and roomy among the Pakistani restaurants in the Greater Los Angeles area. The décor too is appealing. Everything appeared spick-and-span. The food served was delicious and enjoyed by all and sundry.
The arrangements were so perfect that Mrs. Tabatai, wife of the late Brigadier Tabatabai who was well-known in literary circles, announced that Shalimar would be the venue of the next mushaira to be held in the Los Angeles area. Mr. Ashraf Ali, President of the Pakistani-American Arts Council, was the emcee of the evening and enlivened the proceedings with his well-meaning remarks. Mr. Ali suggested that a meeting of community members should be held at Shalimar every month to take advantage of its décor, food and the management's hospitality.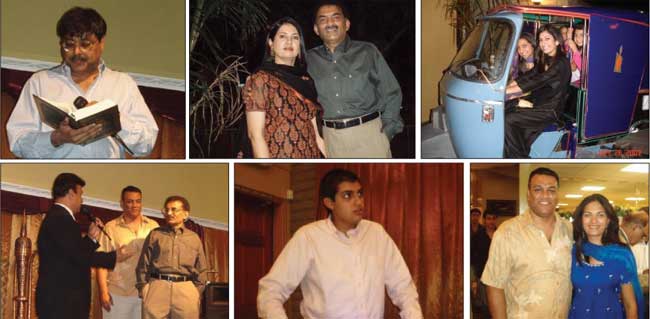 The setting had a striking Pakistani touch. The owners have imported a container full of handicraft from Pakistan that seemed to lend a familiar look to the setting. Quite a few invitees were surprised to see a motor rickshaw at the entrance with the message "Maan ki dua, Pappoo yar tang na kar."
The restaurant is owned by two brothers – Rashid Siddiqui and Amir Siddiqui - who have been involved in community affairs for several years now. Rashid used to arrange shows sometime back. Their father, late Qasim Siddiqui, was also a prominent community member and is still remembered for his services. The two brothers have the active support of their wives –Roohi Siddiqui and Mrs Amir - in the laudable undertaking of running the Shalimar Restaurant.
A singular feature of the evening was the respect shown to the seniors. The mother of Rashid and Amir, Mrs Qasim Siddiqui,was escorted to the dais with great propriety and show of affection by her sons and bahoos. She prayed for the success of the restaurant as any loving Pakistani mother would do.
The management has hired Chinese and Pakistani chefs who prepare dishes. Besides Pakistanis, the restaurant has a good number of regular non-Pakistani clients who enjoy the delicious halal food and relax in the ideal surroundings.
For good food in a tasteful setting Shalimar should be an ideal choice for everyone.

-------------------------------------------------------------------------------------