Lahore to Have "Its Own Version of Silicon Valley"
By Ras H. Siddiqui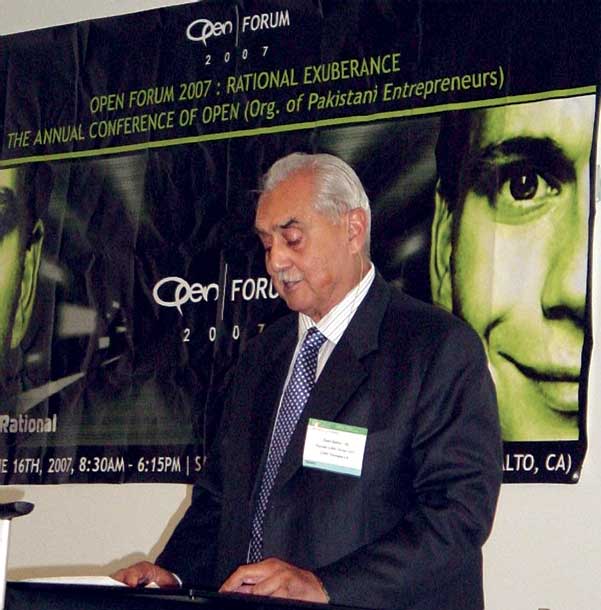 Syed Babar Ali addresses the OPEN meeting in Palo Alto
Palo Alto, CA: The Organization of Pakistani Entrepreneurs of North America (OPEN) Silicon Valley Chapter (www.opensiliconvalley.com) held its fourth annual gathering on June 16, 2007 at the SAP Headquarters in Palo Alto, California to put to test the "Rational Exuberance" of both the Valley hi-tech industry and the spirit of enterprise within the Pakistani-American community today.
This full-day affair featured three keynote speeches, four panels and workshops each, during which approximately three hundred people in attendance took advantage of the experience and success of those who have already made their mark in the world of business.
The event started off with a registration session and a light breakfast followed by its formal opening by OPEN-SV President Umair Khan. Umair welcomed everyone and briefly touched on the accomplishments of the organization in the short time that it has been around, including its growing relationships with top notch universities such as MIT and UC Berkeley.
Dilawar Syed next introduced the audience to the day's schedule and the logistical elements of this forum. He began by introducing Professor Tom Byers, Head of the Tech Ventures Program at Stanford University. Tom started his talk by addressing the question "Are Entrepreneurs Born or Made?" and took a poll on that (almost a split vote). He presented a short introduction to the Stanford Technology Ventures Program. "I am trying to think about now and the future," he said while addressing the strategic aspects of technology funding today. He said that US venture capital is still watching IT and Photonics, Nanotechnology, Environment and Energy prospects today. Armed with statistics on capital availability, Tom presented a Jeff Hawkins video on what it takes to be an entrepreneur.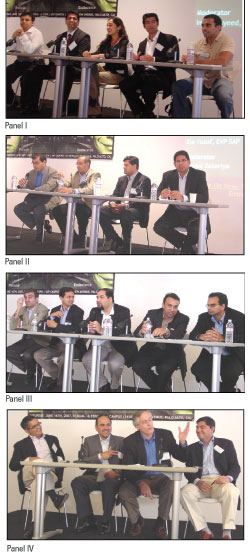 "You have to know a little bit about everything," it said, and nothing could be truer in the world of business startups today. In other words, entrepreneurship is a management style that involves pursuing opportunity without regard to resources currently controlled. Prof. Byers informed that only a few universities taught entrepreneurship in 1970 but today hundreds of them are imparting knowledge on the important subject. He shared his thoughts on what makes a great business opportunity, a good business plan, and necessary wisdom: "Success comes after much toil," he pointed out.
Panel 1 focusing on "Alternate Paths to Success" consisted of Monis Rehman (CEO Naseeb Networks), Rehan Jalili (President TSRF), Khalid Saiduddin (Founder Saafwater) and Sophia Qureshi (News Producer Al Jazeerah). Moderated by Imran Sayeed, this panel incorporated the thoughts of Monis, who introduced "Halal Dating" and employment (Rozee.com) to our community, Rehan who has been advising American stars on how to keep their bodies fit, Khalid "Paniwaala" who is trying to promote water cleanliness in the slums of Karachi, and Sophia whose employer can be considered a "problematic" career choice. Some very interesting insights were presented here.

Workshop I which was going on concurrently (making reporting difficult) focused on "Doing Well by Doing Good: For Profit & Not For-Profit Opportunities in Pakistan ." Moderated by Aaref Hilaly, the presenters included Bilal Musharraf (ePlanet Ventures), Ahsan Saleem (Director, The Citizens Foundation) and Yusuf Hussain (MD, PSEB). Bilal spoke on the giving-potential of Pakistanis, their philanthropy, and Yusuf spoke on "Pakistan, Destination Next" and on prioritizing human capital. Ahsan Saleem is no stranger to us here since TCF has already established itself in this area (thanks in part to Amjad Noorani).
Panel II featuring "Profiles in Corporate Success" included Naseem Amin (SVP Biogen Idec), Kamal Ahmad (MD Morgan Stanley and Zia Yusuf (EVP SAP). Moderated by Fawad Zakaria, this panel concentrated on breaking glass ceilings and aiming high in corporate America. Naseem said that he never planned to do what he did today, Kamal charted out his journey from America's rust belt to semiconductors and systems, and Zia talked about his experiences at the World Bank where he also met his wife Paru (of the local DIL Chapter) and where the two decided to give India-Pakistan friendship a jump-start.
Workshop II held upstairs at the same time (Reporting assignments can keep one fit too) dealt specifically with "Fundraising for First Time Entrepreneurs." Moderated by Waheed Qureshi, Speakers Larry Kubal (GP Labrador Ventures), Saeed Amidi (Amidzad Ventures), Tom Fontain (Principal Mayfield Fund) and Naeem Zafar (Altair Ventures) reminded everyone of the necessity of doing a thorough study of the market and identify the need your product fills, and that investors are bright people who cannot be convinced easily. One speaker said that his investment company saw 4000 business plans a year and only invested in 6 or 7. So it was best to be precise and do ones homework before presenting a business plan.
After lunch which turned out to be a great opportunity for continued networking, Bill Reichert, General Partner at Garage Ventures presented the afternoon keynote address. Bill touched upon the prevailing wisdom for new ventures namely 1) Come up with a disruptive technology, 2) Write a brilliant Business Plan, 3) Raise a pile of money, 4) Raise another pile of money, etc. 5) Go mainstream by hiring a real CEO.
Mr. Reichert presented a better "Small is Beautiful" alternative and his version of the "Top Ten NEW Rules for Entrepreneurs and Investors". Just to mention a couple of them here, Bill said that the fundamental objective from the point of view of the old rules was to create wealth while from the point of view of the new rules it was create value. For the best ways of getting started, the old rule was to have a brilliant entrepreneur start things but the new rule was to build a talented team. The sharing of company vision through a Mission Statement was an old school practice because the new rule of sharing calls for a mantra. He also said that the focus of the old business model was on raising capital, but the new rule focuses on raising revenues. And one important rule that cannot be ignored today is that the "Good old American know-how" of yesterday has been replaced by the "Good new GLOBAL know-how," of today.
Syed Babar Ali with Idris Kothari and Amra Tareen

Bill Reichert

Tom Byers

Faruq Ahmad and Umair Khan

Saiduddin, Tareen and Khan
Panel III spotlighting "Opportunities in Global Entrepreneurship" followed on what was to be a very busy afternoon. On the panel, Raghib Hussain (CTO Cavium Networks), Adnan Lawai (CEO Folio3), Faraz Hoodbhoy (CEO Pixsense), Dr. Sana Khan (CEO TrueMRI) and Salman Akhtar (CEO Techlogix) discussed the merits and possible demerits of going global. This panel was moderated by Umair Khan. Here this writer has to add with pride that Raghib, a coworker just a few years ago, is today a co-founder of a company that has just recently had a huge IPO on NASDAQ. All Pakistanis and especially alumni of NED in Karachi should also be proud of him. And one cannot forget Faraz Hoodbhoy here who continues to live up to his last name and is actually hiring Pakistani-Americans to fill key job positions in Pakistan. Salman Akhtar's company might also be in a similar hiring position.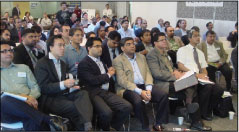 A section of the audience
Workshop III focusing on the theme "Moving to Greener Pastures" dealt with career management. Moderated by Dilawar Syed, the panel consisting of Bari Abdul (SVP McAffee), Mubashar Hameed (SVP & CIO Fiserv Output Solutions), Hasan Rizvi (VP Oracle) and Shazia Makhdumi (CEO ColorfulStories) had an opportunity to share the wisdom that they obtained treading their own paths to success. Shazia Makhdumi said that one has to be careful sometimes as to what you ask for because you just might get it (in the career context). Bari Abdul said that "Desis do not do enough networking," something that many of us are becoming more aware of here today.
After the Mid-Afternoon Networking Break, Panel IV certainly turned out to be quite an interesting one. Three startup business plans were presented. Mansoor Khan (DiagnosisOne), Khalid Saiduddin (Founder Saaafwater) and Amra Tareen (CEO Masala Inc.) made their pitch to a group of potential investors on the panel, namely Ayaz Haque (DFJ ePlanet), Faysal Sohail (CMEA Ventures), Ammar Hanafi (Alloy Ventures) and Bill Reichert (Garage Ventures). Faruq Ahmad moderated this American idol turned "Entrepreneurial Idol" segment. Each presentation was judged on its own merits. Khalid had the strength of social responsibility behind him as green or environmentally conscious startups are attracting a great deal of investment today. His pilot project in the Lyari area of Karachi, Pakistan is a case in point. Mansoor's presentation was extremely professional. Armed with data it was just a little bit on the dry side. And few could match Amra's energy of presentation. Out of the four potential investors, three voted for Saafwater and one for Masala. The audience also gave Saafwater their thumbs up, ending the most interactive part of the day.
Workshop IV on "Healthy, Wealthy and Wise" concentrated on both our physical and financial health. Presenters Dr. Mobaser Rana, Imran Jaffer, Dr. Adib Ashraf and Dr. Zakia Rahman shared their knowledge of diet, body weight, estate planning and more with us. This workshop was a nice addition to what is usually a technology centric forum.
Being South Asian, our risk is higher," said Dr. Rana, who still added that paratha avoidance in ones diet is not necessary to lead a healthy life.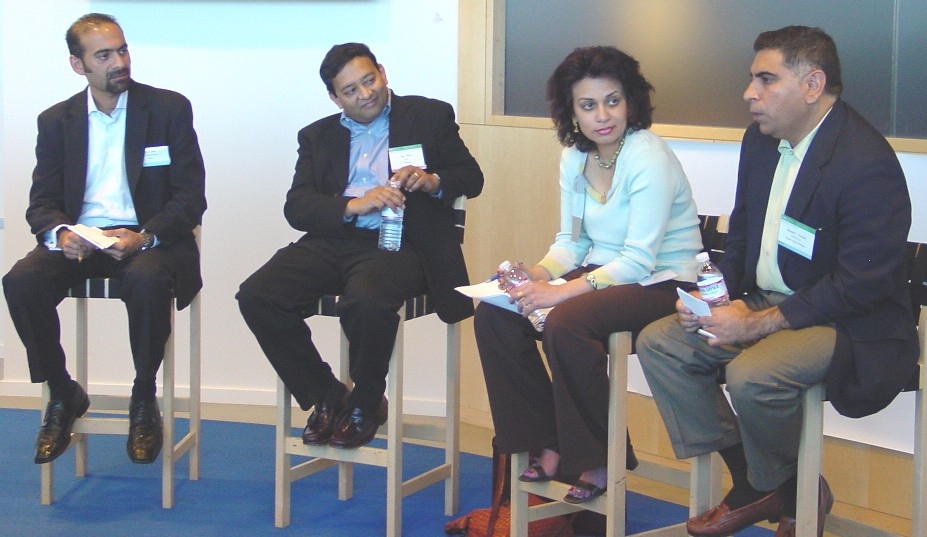 Dilawar Syed (left) with workshop III participants
After a word of thanks from Umair Khan, the final keynote speaker of the day Syed Babar Ali was introduced to a now packed hall. Speaking on the topic "Taking the Plunge: A Personal Perspective on Entrepreneurship, Education & Philanthropy" the speaker had a remarkable career in all three areas to reflect upon. He founded the Lahore Institute of Management Sciences (LUMS) in 1985 which is the country's premiere management education institution today. He has also had considerable success in commercial startups in Pakistan including the setting up of Packages Limited, Milkpak Limited, Tetra Pak Pakistan Limited and International General Insurance Company Pakistan Limited (to name a few). OPEN Forum attendees were honored to have such a distinguished speaker in their midst.
Syed Babar Ali went through his life experiences in his speech including the establishment of Packages Limited, his involvement in fertilizer promotion, liquid food distribution, his interaction with Z.A. Bhutto, General Zia, and of course the road to the formation of LUMS. He expressed his happiness at the large number of LUMS graduates working in both Pakistan and North America today. "We want to do better," he said. "We want to establish an Engineering University," he added.
Taking inspiration from Thomas Friedman's recent writings, he went on to add that we needed to find oil in our own backyard in Pakistan (the oil being found in human talent). Sharing his vision of a future school of science and engineering (SSE) attached to LUMS; he said that Pakistan could produce technical talent that the world's top companies would be happy to employ. He said that initial capital for the project has been raised and the project is scheduled to operate an undergraduate program within five years. Organizations such as OPEN could also help in this effort. "In ten years Lahore will have its own version of Silicon Valley," said Syed Babar Ali. He said that Pakistanis worldwide are a generous community but they do not invest in building institutional infrastructure in the country. Here we have an opportunity to have a school patterned on Stanford and MIT. "We have to bring the SSE visibility to the Pakistani Diaspora."
To conclude here, the sponsors of this event, the OPEN Executive Committee and the team of volunteers need to be commended for the success of OPEN Forum 2007. It is great to see people step away from politics and learn the ropes of cooperative success using today's global business model. Cavium Networks is one such example of Pakistani-Indian-American cooperation leading to a NASDAQ winner. Raghib Hussain, a graduate of the Nadirshaw Edulji Dinshaw (NED) Engineering College/University (founded by a member of the Parsi community) in Karachi has assisted in leading his company to its global presence today. Rational exuberance dictates that we seriously consider helping Syed Babar Ali's efforts to set up the LUMS-SSE so that we can find more such success stories in the future.

-------------------------------------------------------------------------------------