2007 ICC Cricket World Cup on Dish Networktm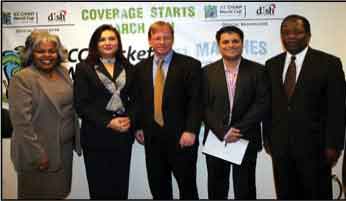 Englewood, Colo: EchoStar Communications Corporation (NASDAQ: DISH) and its DISH NetworkTM satellite TV service held a press conference to announce the 2007 broadcast of the ICC Cricket World Cup. The conference held at the Barbados Consulate in New York City was attended by members of the South Asian, Caribbean and mainstream press.
Consul General Jessica C. Odle of Barbados, community leader and New Jersey Ratepayer Advocate Jersey Seema M. Singh, Esq., and EchoStar Executive Vice President Michael Kelly were present to address the press. Also present was the permanent representative of Barbados to the United Nations, his Excellency Christopher Hackett.
Coverage of the event begins March 5 with four warm-up matches, followed by the opening ceremony on March 11 and the first match on March 13. The 2007 ICC Cricket World Cup is available to DISH Network customers for $199.95.
"This year marks DISH Network's tenth anniversary for delivering cricket to our subscribers," stated Michael Kelly, executive vice president of DISH Network. "We continue to look for new ways to bring the best of cricket to passionate fans, and are pleased we are able to offer the most complete coverage of the 2007 ICC Cricket World Cup."
"I wish to praise DISH Network for once again making this event accessible to many, especially, but not limited to the Caribbean diaspora, who are unable to return home to view this highly anticipated sporting event. I say once again because this is DISH Network's third cricket world cup. We believe it will be yet the best," said Consul General Odle.
Coverage of the 2007 ICC Cricket World Cup is available on DISH Network channel 471 and includes live matches and replays, highlights and news. Additionally, DISH Network's interactive TV (iTV) application will provide video switching between two match feeds, voting, background information on teams and players, and live scores as well as news and opinions.
DISH Network subscribers can launch any iTV application by going to DishHOME channel 100, choosing a category, and selecting any of the available iTV applications.
The 2007 ICC Cricket World Cup will be hosted in the West Indies, allowing cricket fans in the U.S. to watch this exciting event live during daytime hours. Those unable to watch their favorite teams compete live on TV from the comfort of their homes can watch the matches on their PC through a broadband connection by visiting www.dishnetwork.com. As an added bonus, cricket fans can take advantage of a digital video recorder (DVR) to record the matches and watch them at their convenience.
The standing-room-only press event was carried live on Dish Broadband as well as five South Asian radio stations across the U.S. in the Bay Area, Dallas, Houston, NY and NJ.
Artists Don Revo & G-Deep were on hand to perform their new song, "Cricket Anthem," live as a finale to the conference. The artists broke out in song, much to the amusement of press and onlookers and were joined by calypso dancers and some enthusiastic members of the audience as the Consul General Odle, Ratepayer Advocate Singh and EVP Kelly cheered them on.
For more information about DISH Network programming and services visit www.dishnetwork.com or call 1-800-333-DISH (3474). To order Pay-Per-View events, DISH Network customers can call 1-877-DISH PPV (347-4778) or visit www.dishnetwork.com/ppv.
About EchoStar Communications Corporation:
EchoStar Communications Corporation (Nasdaq: DISH) serves more than 13 million satellite TV customers through its DISH Network(TM), the fastest-growing pay-TV provider in the country since 2000. DISH Network's services include hundreds of video and audio channels, Interactive TV, HDTV, sports and international programming, together with professional installation and 24-hour customer service. EchoStar has been a leader for more than 25 years in satellite TV equipment sales and support worldwide. EchoStar is included in the Nasdaq-100 Index (NDX) and is a Fortune 300 company. Visit EchoStar's Web site at www.echostar.com or call 1-800-333-DISH (3474).
-------------------------------------------------------------------------------------