Memories, a Light and Melodic Album
By Ayesha Naveed Mazhar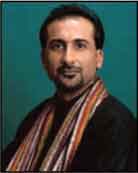 GEO Television Network's subsidiary GEO Music recently released Nadeem Wali Mohammad's highly anticipated album - Memories. He has dedicated his new album to memories and feelings he experienced while going through this period. He rather appears to be talking to his fans and sharing his emotions in this album.
The basic theme of the album is Love and Romance. Nadeem manages to cover all the equations of sentimental feelings that are important between two souls. The album is very light and melodic and the track Halka Sa Ek Nasha is inspired by his father Habib Wali Mohammad's very popular single Aaj Jaane Ki Zid Na Karo. Video for the single Halka Sa Ek Nasha began to air earlier in January on GEO and other TV Networks.
The interesting thing to note is that the orchestration is extremely modern. The treatment of songs is mostly fusion of Eastern tabla, Western drum with a touch of Spanish and Base guitar. The album includes four old classics: Marne Ki Duaein composed by Habib Wali Mohammad, Aap Akele Mil Jaaein by Nisar Bazmi, Chaandni Ye Raat composed by Ustad Allah Rakha and Haule Haule by Sohail Rana.
With Kare Badra Re, Nadeem hones on to the peppy beats, and with the amount of instruments involved this little ditty will make certain occasions hot and spicy. The good thing about singers is that they never forget their country and here it's his father's ever-popular Roshan-o-Rakshan.
In the end the album can be summed up as love all the way and something to play to on all occasions. More information on Nadeem is available at www.NadeemWaliMohammad.com.
-------------------------------------------------------------------------------------