Pakistani Professor Elected to Prestigious National Academy of Engineering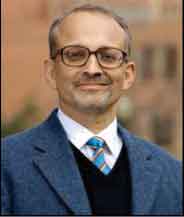 Los Angeles, CA: Dr. Asad Abidi, Professor, Electrical Engineering, UCLA, has been elected to the National Academy of Engineering (NAE). Election to the NAE marks the highest professional lifetime distinction accorded to an American engineer.
Professor Abidi was nominated for his contributions to the development of CMOS radio technology. This research has helped to define a new industry. The next generation of chips for cell phones and wireless networking in computers is all based on CMOS radios. Many of the circuits can be traced to Dr Abidi's research at UCLA.
Academy membership honors those who have made outstanding contributions to engineering research, practice, or education. Established in 1964, the NAE shares responsibility with the National Academy of Sciences to advise the federal government on questions of policy in science and technology.
Professor Abidi has been an electrical engineering faculty member at the UCLA Henry Samueli School of Engineering and Applied Science since 1985, where he, in collaboration with other engineering colleagues, led the way in research and creation of what is now known as integrated circuits and systems.
Prior to his tenure with the School, Abidi worked at Bell Laboratories, Murray Hill, NJ, in the Advanced LSI Development Laboratory. He has received a number of awards and honors while at UCLA, including the TRW (now Northrup Grumman) Award for Innovative Teaching, and the IEEE Donald G. Fink Award.
Following secondary school education at Cadet College, Hasan Abdal in Pakistan, Dr. Abidi earned his B.Sc. with Honors degree from Imperial College, London, UK, and an MS and PhD in electrical engineering from the University of California, Berkeley.
The mission of NAE is to promote the technological welfare of the nation by gathering the knowledge and insights of eminent members of the engineering profession. The NAE is the portal for all engineering activities at the National Academies, which along with the NAE, include the National Academy of Sciences, the Institute of Medicine, and the National Research Council.

-------------------------------------------------------------------------------------