Community Rejoices on Rehana Qamar's Recovery

L to R: Rehana Qamar, Tabish Khanzada, Sameen Farooqi, Tariq Altaf and Sarfaraz Khan
Prominent community members turned up at the Shahnawaz Restaurant in Lakewood on March 3 to celebrate the full recovery of Rehana Qamar, a prominent Los Angeles poetess, from blood cancer.
The hall was packed to capacity with more than 200 distinguished guests - intimate friends and admirers of the poetess - demonstrating their exuberance and happiness on seeing her in their midst in a healthy state after her bout with the dreaded disease.


L to R: Zafar Abbas, Iqbal Ibrahim, Shahida Lateef, Dr Feroze Alam and Dr Naseem Malik
The evening was jointly arranged by Sarfaraz Khan, President, Friends of Pakistan; Sofia and Tariq Altaf, Secretary General FOP; Anees Mufti, and Dr. Naseem Malik. A full capacity hall cheered Rehana Qamar as she walked up to the stage to address the gathering. She expressed her heartfelt gratitude to all friends who stood by her during her illness. She also thanked Allah (S.T.) who gave her strength and courage to fight the disease.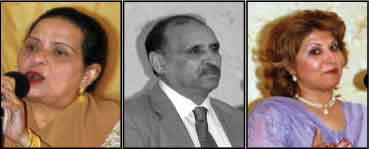 L to R: Asifa Nishat, Jamil Chaudry and Rohida Khan
Dr. Feroze Alam, a well-known doctor in the social circles of Southern California, was the emcee of the evening. Tabish Khanzada, Zia Khan, Dr. Naseem Malik, Dr. Azam Khan, Iqbal Ibrahim, Shahida Lateef, Rohida Khan, Samin Farooqi, Sofi Shafiq, Dr. Sana Khan, Zafar Abbas, Asifa Nishat, Tariq Altaf, Jamil Chaudry and Sarfaraz Khan also shared their thoughts with the gathering on the occasion.
At the end of the ceremony Dr. Javed Maqbool prayed for the health and long life of Rehana Qamar and others. It turned out to be a memorable evening that will be remembered for a long, long time. A delicious dinner was served by Shahnawaz Restaurant. (Pictures by YKKB)

-------------------------------------------------------------------------------------