Royal Kill Screens in Washington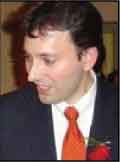 Babar Ahmed
Pat Morita, best known as Mr. Miyagi in "The Karate Kid," appears in his final role at the Washington, D.C., Independent Film Festival this weekend when a portion of "Royal Kill," a thriller directed by Arlington filmmaker Babar Ahmed, screens.
Morita died in his Las Vegas home in 2005 of natural causes.
"Because of him, this movie took off," Ahmed says. "It was a unique experience to work with him because I could immediately tell he was of a different caliber as an actor."
Morita signed on to the film after Ahmed spoke to him in a conference call set up by a mutual friend. He plays a mentor to a man who is charged with protecting an heiress to a fictitious kingdom.
Ahmed will show a 15-minute rough cut of the film at the festival in which Morita appears once and has only a few lines: "A moment can last a lifetime. But a lifetime can be lost in a moment."
The cast of "Royal Kill" also includes professional wrestler Gail Kim from the Spike TV show "TNA Impact"; teen actress Lalaine, from the Disney show "Lizzie McGuire"; and Eric Roberts, actor and brother of Julia Roberts.
Morita filmed his scenes on the American University campus, where students took cellphone pictures with him and called him "Mr. Miyagi."
"When he was filming he was in top mood . . . He really brought a lot of life to the set and constantly encouraged the crew," Ahmed says. "He even did his 'Wax on, wax off' joke once."
Excerpts from "Royal Kill" will screen at 4 p.m. Sunday during the independent film festival, Auditorium 46, University of the District of Columbia, 4200 Connecticut Ave. NW, $10. 202-537-9493.

-------------------------------------------------------------------------------------