Urdu Markaz Lifetime Achievement Award for
Dr Munibur Rehman
A Pakistan Link Report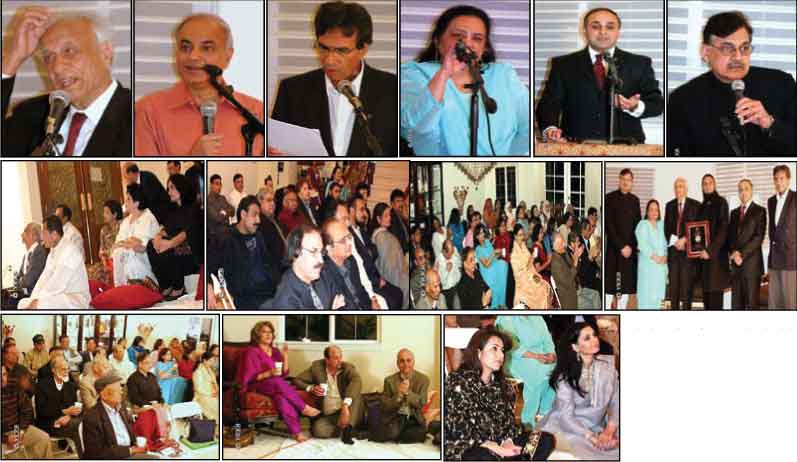 Pictures above: Glimpses of the Award Ceremony
Los Angeles, CA: Dr Munibur Rehman, a well-known progressive writer and poet, was given the coveted Urdu Markaz International Lifetime Achievement Award at an impressive ceremony held at the residence of Dr Syed Sami on March 18 2007.
The ceremony was attended by prominent community activists, leading poets, writers, and lovers of Urdu. Consul General Syed Ibne Abbas also graced the occasion.

Dr Munibur Rehman belongs to a distinguished group of progressive writers that included Faiz Ahmad Faiz, Sajjad Zaheer, Farigh Bukhari, Ahmad Nadeem Qasmi, et al and made its mark on the Urdu literary scene in the 1940s. He has written several books and his work has won wide acclaim in literary circles. The learned poet and writer has lived in France, England, Italy and the US where he has taught at leading universities. His work has been translated in several languages.

Dr Bedar Bakht, who has translated several volumes of Dr Munibur Rehman in English, specially flew from Canada to attend the function. Dr Abdullah, whose role in promoting Urdu in the US is well known in literary circles, arrived from Washington. Nayyar Apa, Secretary General, Urdu Markaz International, welcomed the distinguished poet and paid glowing tributes to his literary genius.

Dr Munibur Rehman drew rapturous applause from the audience when he recited a series of poems going back in time to the 1940s to the current decade, especially the poem 'Phoolon ki Baat' which talks about love and peace in the midst of hatred and conflict.
Prominent among the gathering were: Abubakr Vakil, Irfan Murtaza, Ashraf Ali, Saeed Karim Fazli, Qazi Asad, Asif Syed, Khalid Khaja, Zafar Abbas, and Rohilla Khan.


-------------------------------------------------------------------------------------