PANA Convention Mobilizes Support for Pakistani Judiciary
By Hazem Kira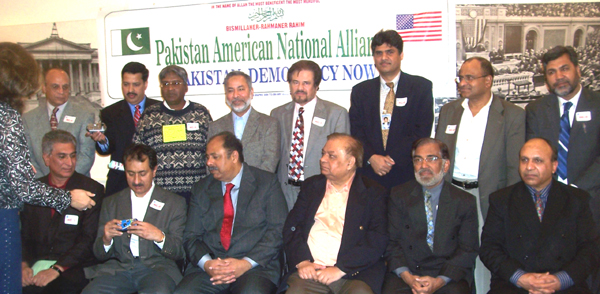 PANA members address a press conference in Washington, DC
Washington, DC: Echoes of the press conference organized by the Pakistan American National Alliance (PANA) at the Capitol Building on Friday and a US-wide convention in Springfield, VA on Saturday were clearly heard in Pakistan during subsequent conversations with pro-democracy activists in Pakistan. Most notable was Dr. Muhammad Ashraf Toor's phone conversation with Mr. Javed Hashmi, who has been incarcerated by the Musharraf regime for the last six years. "I have been reading report after report of your convention," Mr. Hashmi, who was obviously exhilarated by the news of the convention, confided to Dr. Toor.
Both events were organized to "inform, involve and galvanize the Pakistani-
American community, develop a consensual action plan, provide a united platform for action, and to work to rebuild the democracy in Pakistan.
The upshot of both these events was enthusiastic support for the judiciary and forceful demands for the reinstatement of Chief Justice Iftikhar Muhammad Chaudhry.
"Finally the Pakistani-American community has accepted its responsibility in helping with the restoration of democracy in Pakistan. This turn of events has also clearly separated pro-democracy Pakistani American groups from pro-military Pakistani-American groups," veteran community leader Saleem Akhtar said. "The latter are conspicuous by their total silence."
At the convention, PANA issued a major position paper titled "Pak-American Contract with the People of Pakistan".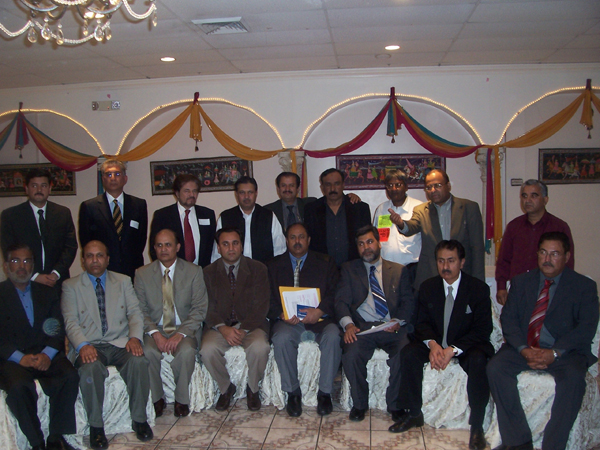 Group picture of some of the PANA members who attended the Washington Convention
"We have decided to issue this 'Contract with the People of Pakistan' to spell out our commitment and to share our vision based on our learning and experiences in relatively advanced democracy. This document comprises of three parts: a) Charter of Pakistani-American obligations, b) Support for structural, procedural and constitutional changes recommended by Pakistani political parties, and c) Code of Conduct for Pakistani political parties."
Looking at it as a sequel to the "Charter of Democracy" jointly issued by PPP and PML-N, a number of commentators have observed that PANA's "Contract with the People of Pakistan" rectifies some of the obvious omissions in the Charter.
PANA has received enthusiastic response from all quarter including some members of PPP and PML (N), in particular to Articles 23 and 24 of its Contract. These Articles urge Pakistan political parties to improve their own conduct as well. These two articles read:
23. Civilian rule preceding Gen Musharraf's coup has left behind an unfortunate legacy of distrust based on impressions of debilitating incompetence, gross negligence and massive corruption. It remains the primary responsibility of major electoral parties to acknowledge, fix and prevent these problems with aim of healing the political society. Political parties must institute formal systems to purge themselves of their outlaw members and officers.
24. We hold all political parties, the two major parties in particular, accountable in terms of their public commitment to the people of Pakistan stipulated in Article 22 of the Charter of Democracy: "We shall not join a military regime or any military sponsored government." We also hold accountable for their commitment that "No party shall solicit the support of military to come into power or to dislodge a democratic government."
Although its press conference was organized in Room C-5 of Capitol Building, PANA had self-consciously declined to involve the US government. "We are against Pakistan getting involved in the internal affairs of the United States. Similarly, we are opposed to the US government getting involved in the internal affairs of Pakistan," PANA Coordinator Dr. Agha Saeed told more than a dozen TV, radio and print journalists covering the event. "We are trying to involve the Carter Center and other civil society institutions but not any government entity", he said.

-------------------------------------------------------------------------------------