Oscar-Winning Comedy Generates Laughter for Rival Groups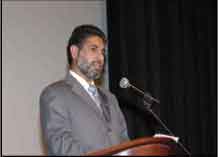 FOP President Sarfaraz Khan addresses the gathering
Los Angeles, CA: The Hollywood screening of an Oscar-winning short film about the Israeli-Palestinian conflict on April 7 drew a full house of Israelis and Palestinians as well as others concerned about the Middle East. And the house was filled with laughter. The short film, West Bank Story, is an unlikely musical comedy that won this year's Academy Award for Best Short Live Action Film.

An audience of over 300 Angelenos with connections to the Middle East gathered in a Hollywood theater on Saturday night to share concerns. The evening began seriously enough with presentations by several local Middle East peace groups. But as West Bank Story lit the screen, the gathering burst into laughter. The film is a Middle East take-off on West Side Story, sharing out jabs evenhandedly between rival falafel-stand owners, one Israeli and one, Palestinian.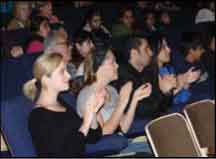 A section of the audience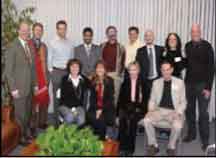 Group picture of organizers and speakers
Following the screening, filmmaker Ari Sandel, and composer Yuval Ron, hosted a lively discussion with the audience. Sandel co-wrote and directed the film as his Masters Thesis project at the University of Southern California (USC). He has shown it all over the world including in Israel and Dubai.

Debbie Kanafani, former Director of International Television Productions for the Palestinian Broadcasting Corporation, commented after the screening that she had been hesitant about coming because she felt the situation too tragic to turn into a comedy. However, after seeing the film she said, "I realized how important it is to put some objective distance between ourselves and the conflict. It can help us to come up with solutions."

-------------------------------------------------------------------------------------