Bishop Thorkelson Helps Build Eye Hospital in Pakistan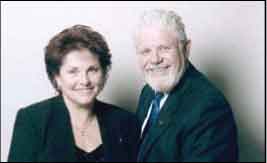 Bishop Tom Thorkelson and his wife Sheila
For many years now Bishop Tom Thorkelson has been a true friend of the Muslim community. Many gleefully recall how one particular year the Muslim community was faced with problems of sorts in finding a suitable place for holding the Eid prayers. It was Bishop Tom Thorkelson who came to their rescue. He talked with the army personnel and soon thereafter the Muslims got the permission to hold the Eid prayers at the hanger in Tustin.
This was not an isolated instance to demonstrate his abiding friendship with the Muslims. Bishop Thorkelson has proved his strong bonds with the community time and again with remarkable consistency. Recently, he furnished fresh proof of his strong bonds with the Muslim community.
About two years ago, he was instrumental in establishing a wholesome rapport between Dr. William Jackson of Deseret International and Mr. Saghir Aslam of Saba Trust. Both came to nurse respect and admiration for each other. Gary Sabin, an executive of Excel International Cooperation and a great supporter of Deseret International, joined the duo in drawing up plans for establishing an eye hospital in the northern areas of Pakistan where the incidence of eye ailments is quite high. This could not have been possible without Bishop Thorkelson's efforts to bring Saghir Aslam and Dr. William Jackson together.
Dr Jackson had visited the earthquake–ravaged area in Northern Pakistan. It was then that he felt the pressing need to establish a state-of-the-art eye hospital in one of the villages in Chanan near Kharian next to where the Wisdom House School and degree college established by the Saba Trust stand.
Earlier this year, Dr. Jackson and Gary Sabin, visited the Saba Trust head offices, its distribution center for clothes and food, the Wisdom House girls and boys school, and the Trust's degree college for women in Pakistan. It was then that Dr. Jackson selected a piece of land that he had chosen earlier and which he ultimately designated to be the site for the eye hospital.
Gary Sabin, who has demonstrated profound devotion for uplifting the cause of the underprivileged, had a tete-a-tete talk with Dr. Jackson and following a series of meetings with Saghir Aslam, Dr. Usman Saeed and Abdul Shakoor, decided to support the singular venture of the eye hospital single-handedly. Plans were drawn up for the establishment of the eye hospital on a brisk note.
Sabin has served as Chairman, CEO, and President since founding Excel in 1978. Currently, he also serves as Chairman of the Sabin Children's Foundation and Vice Chairman of the Cystic Fibrosis Foundation. He is deeply involved in helping the underprivileged class throughout the world.
The Sabin Children's Foundation is a non-profit public benefit charity dedicated to relieving the distress of children. It was founded in 1994 and sponsors worthy charitable projects, which dramatically change the lives of children all over the world. A portion of Excel's profit's are donated to assist the mission of SCF.
One of the most unique features of SCF is that it has almost no overhead expenses, making it the leanest and most efficient charitable organization of its kind. Those who work in SCF are volunteers committed to making a difference in the lives of children. There are no executive salaries. There are no administrative expenses other than minimal incidental costs incurred in the direct delivery of programs and benefits.
It is fortunate that the eye hospital being established in Pakistan will have the services of Dr. Usman Saeed and a team of capable doctors who have given great performance with their outreach in different parts of Pakistan. They did tremendous work after the earthquake in Azad Kashmir and the Northwest Frontier Province. They performed many eye surgeries and examined thousands of patients in Pakistan. They have also visited other countries such as Sudan and Afghanistan during the last few years and performed 960,000 eye surgeries. Dr Saeed and his team work closely with the Railway Hospital which has held many camps in Haripur, Abboabad and surrounding villages during the last several years.
All this was made possible, thanks to the well-meaning Bishop Tom Thorkelson who made arrangements for the donation of three ambulances to the Saba Trust. The Railway Hospital used these ambulances as a mobile clinic which has proven to be the best use of these ambulances.
Bishop Thorkelson along with his wife Sheila and their son John Jones - an intern during Ronald Reagan's presidency - visited Pakistan from one end to the other and have enjoyed the hospitality of Muslims in Pakistan. The Saba Trust was fortunate to have them as speakers at its World Interfaith Peace Conference which brought representatives of many faiths together to build bridges between different religions thanks to the initiative of Mr. Saghir Aslam who heads the Saba Trust with singular dedication and has many success stories to his credit. In attendance were Hindus, Sikhs, Parsis, several denominations of Christians, and Muslims.

-------------------------------------------------------------------------------------