MPAC to Honor Zarqa Nawaz of 'Little House on the Prairie'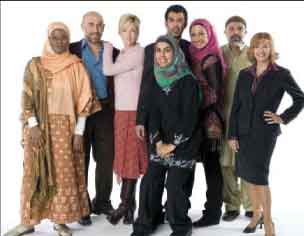 The producer and the cast
Los Angeles, CA: Even before "Little Mosque on the Prairie" hit Canadian prime time television in January, the sitcom generated international media interest based on its unheard of depiction of the complex and endearing Muslim residents in a town called "Mercy".
At its heart, "Little Mosque" takes a humorous look at relationships, family, love, the generation gap and balancing different faiths and cultures in a prairie setting.
SEE: ";Little Mosque on the Prairie" - Ist Episode (Canadian Broadcasting Corp)
MPAC is to present its 16th Annual Media Award honoring voices of courage and conscience to "Little Mosque on the Prairie" creator Zarqa Nawaz during its on June 29 in Los Angeles, CA. Other honorees recently announced are Oscar-winning documentary "An Inconvenient Truth" and Oscar-nominated foreign film "Indigenes / Days of Glory". This 34-year-old filmmaker and journalist has acquired recognition with her films, which examine and demolish stereotypes associated with Muslims.
"As a community, we're realizing that rather than sit back and complain about our representation, we have to be proactive in creating our own image," Nawaz says. "Become filmmakers, become journalists, own our own newspapers, participate in society."
Even before it premiered, the show attracted international media attention, prompting the CBC to broadcast it months ahead of its original schedule and it debuted to a record audience of Canadian viewers. "Little Mosque" averaged one million viewers per episode in its first season and is currently in production on season two. The show has recently been renewed for a second season.
This month, "Little Mosque On The Prairie" signed its first international distribution deal for the show with French broadcasting giant Canal+, which will begin airing the first season in July 2007. The show, which will air in France as well as in French-speaking regions in Switzerland and French-speaking countries in Africa, will air in local voice-over formats.
In an effort to promote positive and accurate representations of Islam and Muslims, MPAC each year recognizes voices of courage and conscience who are the best in their field. Since 1991, MPAC has honored artists, actors, authors, and activists for their artistic contributions to tolerance and diversity. Last year's honorees were Warner Brothers for "Syriana", the Academy Award nominated film "Paradise Now" and director Hany Abu-Assad, and South Asian rock band "Junoon" founder Salman Ahmad.
Tickets for MPAC's 16th Annual Media Awards Dinner on June 29, 2007 at the Omni Hotel in Downtown Los Angeles are now available for $150 each or $1500 for a table of 10. Call MPAC at (213) 383-3443 to purchase your tickets today. Tickets will not be sold at the door.
Founded in 1988, the Muslim Public Affairs Council is an American institution which informs and shapes public opinion and policy by serving as a trusted resource to decision makers in government, media and policy institutions. MPAC is also committed to developing leaders with the purpose of enhancing the political and civic participation of Muslim Americans.

-------------------------------------------------------------------------------------