Pakistanis Protest in Many Cities across the United States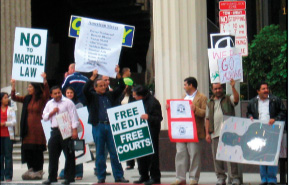 Protesters demonstrate in front of the Pakistan Consulate General in Los Angeles, California, on November 9. The protest was organized by SAN
Los Angeles, CA: Pakistanis living in the United States have staged protests in various cities to express their strong disapproval of the November 3 imposition of emergency in the country. In Los Angeles, the Board of Directors of the Council of Pakistan American Affairs, COPAA, a Southern California based organization, strongly condemned the imposition of Martial Law by General Musharaf through a Provisional Constitution Order (PCO). A COPAA press release stated:
COPAA demands that General Musharaf immediately withdraw the PCO and restore the constitution, reinstall all Judges, rescind its ban on media and telecommunication and free all political and human rights activists.The abeyance of Constitution through this unlawful PCO is sure to throw Pakistan into a political turmoil and lead it away from the path of true democracy. It is vital that General Musharaf hold fair and free election and transfer the power to the elected members of Parliament within time frame stipulated in the constitution.
COPAA appeals to Pakistani American community in the USA to use its contacts in Pakistan and make a strong case for democracy in Pakistan…
On Friday, November 9 community activists staged a protest rally in front of the Pakistan Consulate in Los Angeles. The protest was organized by the South Asian Network (SAN) which has been active in airing the grievances of the South Asian community and in seeking their remedy. Participants in the SAN protest called for an end to "the violence and abuse against the people of Pakistan, to free all activists, lawyers, judges and others detained since the declaration of state of emergency, and to stop feeding the dictatorship in Pakistan that continues to violate human rights."
Bay Area Pakistanis, according to a story in the Mercury News of November 10 filed by L.A. Chung, "are coalescing in a series of protests against de facto martial law declared Nov. 3 by Pakistan's General Pervez Musharraf. Today, from 2 to 4 p.m., in front of San Francisco City Hall, they will demonstrate against the declared state of emergency and US continued support of Pakistan's government… "He cannot, in this day and age, suppress the rights of people just like this," said San Jose engineer Ali Hasan Cemendtaur and a member of Friends of South Asia. "It is a deeply moral issue."
Groups such as Friends of South Asia, and Pakistan Tehreek-e-Insaf and local peace group Act Now to Stop War and End Racism, known as ANSWER, are sponsoring today's (November10) demonstration. They are seeking reinstatement of Pakistan's constitution, restoration of the judiciary, lifting the media ban, release of political prisoners and an end to US support for Musharraf.
Khurram Mahmood, a Bay Area coordinator for Pakistan Tehreek-e-Insaf, called Musharraf's actions a gross violation of human rights…
Many highly educated Pakistanis in the Bay Area have relatives imprisoned, such as Abrar Hasan, Cemendtaur's father. Hasan, a famous jurist in Pakistan and president of the high court bar association, was detained in an unknown location, he said.
Cemendtaur made his weekly call home last Saturday, just 15 minutes after police took away his brother-in-law in lieu of his 72-year-old father, who was not at home when they came.
The elder Hasan exchanged himself for his son-in-law Sunday, and Cemendtaur said his family has not had contact with him.
In Boston, according to Khalid Hasan's report in the Daily Times, about 200 Pakistani students from local universities and colleges and members of the community held a rally at the Boston Common on Saturday to protest against the state of emergency in Pakistan. Students at Harvard, MIT and Bunker Hill Community College were among the key organizers of the rally at which speeches deploring the attack on the judiciary, curbs on the media and violence against lawyers, human right sactivists and students exercising their right of peaceful protest. Students from the Berklee College of Music came with percussion drums and synchronized the chants of 'Azadi' in a show of solidarity with Pakistani students, the judiciary, journalists and human rights activists. Emerson college students had come with video footage and interviewed people from the crowd to document the event. Wellesley College girls were in the forefront holding banners and leading what they called the "march of the chain" in a symbolic message for the people of Pakistan who have been arrested and brutalized for speaking out. Brandies University students were accompanied by their professor and program director, who spoke in support of the students who were at the rally and encouraged them to exercise their right of free speech and thought. Also in attendance was a group of students from the University of Massachusetts and Hampshire College at Amherst. The rally urged the US government to support the people of Pakistan and not President General Pervez Musharraf.

-------------------------------------------------------------------------------------