San Francisco Bay Area's Tribute to Sir Syed
By Ras H. Siddiqui

Speakers and poets who participated in the Sir Syed Day Banquet and International Mushaira organized by AMU Alumni Association of Northern California
Keeping up with a tradition is difficult. But the Alma Mater with which the AMU community is connected to is indeed unique. Located in Northern India, Aligarh Muslim University (AMU) is over 150 years old and its numerous Alumni groups today transcend geographical boundaries. The San Francisco Bay Area is no exception and is proud of one such group as the AMU Alumni Association of Northern California (www.amualumni.org) stays soaked in its traditions. Its annual Sir Syed Day Banquet and International Mushaira held this year in Milpitas, California on November 17th was once again testimony to not only the individual successes of its alumni but a reflection of their classy educational origins as well.
From amongst its better known alumni Dr. Zakir Husain (former President of India), Ayub Khan (former President of Pakistan), writers Ali Sardar Jafri, Asrar-ul Haq Majaz, Shakeel Badayuni, Asmat Chugtai along with the ever popular Jawed Akhtar and Naseeruddin Shah stand out. Naseeruddin's role in the movie Khuda Kay Liye (just opened in North America) would have made Sir Syed proud.
The gala evening started of with a fine dinner from the Mughlai realm. The formalities commenced with a recitation from the Holy Qur'an by Afzal Saeed Khan. Introductions were made by Aftab Iqbal who also emceed the first half of the program. He expressed his admiration of Sir Syed, "Marnay Waalay Martey Hain Fana Hotay Nahin," as he expressed thanks to the long departed founder of AMU. And what a legacy he has left behind, a way of thinking that Muslims worldwide could benefit from a great deal in the current era.
AMU Alumni of Northern California President Nihal Khan presented his welcome address to a now full house. "Once again we have gathered to pay homage to our founder," he said. He reminded everyone that this was the tenth anniversary of the Association in Northern California and that he did not wear glasses when he was its President for the first time. Nihal pointed to the Sir Syed Scholarship program that has thus far helped over 1200 students. The program currently supports 140 students and targets over 200 next year.
The Aligarh Education Endowment Fund serving the needs of the underprivileged communities in India was also highlighted (www.aeef.net). The initial contribution to this fund by Drs. Hasan Kamil and Talat Hasan was appreciated. Nihal went on to explain that the fund was not exclusive to one community. He ended his speech with a word of thanks for all volunteers that made this program possible along with the guests that evening, many of whom came from far away. He especially thanked the sponsors the Hasan's, Mr. and Mrs. Ashraf Habibullah, Mr. and Mrs. Syed Sarwat, Dr. and Mrs. Abdul Qayum, Drs. Waheed and Mrs. Munazza Qureshi, Dr. Karim Hussain, Mr. and Mrs. Zafar Hamdani and Mr. and Mrs. Shabbir Siddiqui. His quote from the poet Majaz resonated in the hall as keynote speaker Dr. M. Humayon Qayoumi was introduced.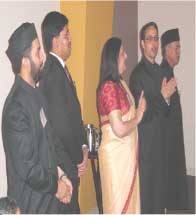 Singing the Aligarh tarana
Dr. Qayoumi, originally from Afghanistan, is currently CSU East Bay President and a well-known area personality. He started his speech with a quote from Urdu's greatest poet Mirza Ghalib. Taking a page from Sir Syed's rich contributions to our community over 150 years ago, Dr. Qayoumi brought us back to today. "How can we make education become a liberating force?" he asked.
From globalization in the Flat World where benefits are not evenly distributed with millions facing food, water and sanitation shortages, the question of humankind as a whole being better off today remains unanswered. The keynote speech took the audience on quite a journey. From Maulana Azad who was also India's first Education Minister, back to the Gupta Empire in Indian history, to the Muslim contributions to the field of medicine, history and science and rational thinking via Ibne Sina and Al Beruni and India's valuable contribution to the world of mathematics, the world saw the basics established that paved the way for the new modes of today's communication (the Internet, You Tube, etc). Yet, in spite of the improved communication many people in America could still not point to Iraq and Afghanistan correctly on the world map and some could not do the same for the Pacific Ocean!
Dr. Qayoumi said that the plight of the world's poor must be remembered and addressed and ignorance has to be countered through educational outreach (Sir Syed engaged in this). He ended his keynote with a quote from the great Bengali poet Tagore.
The first part of the program ended with the traditional singing of the tarana or anthem of Aligarh Muslim University: "Yeh mera chaman hai mera chaman, Mein Apnae chaman ka bulbul hoon…" written by Asrarul Haq Majaz Luchnawi. The enthusiastic audience this time was aided by a video presentation during this effort.
The second part of the Sir Syed Day event and a major annual attraction is the Urdu language mushaira or poetry recital. This year poets from Pakistan, India, and the United States took part in this fine tapestry of talent. Abidullah Ghazi (Chicago) conducted the proceedings starting with his congratulations on a full house (tickets were sold out a couple of days before). Mr. Ghazi also commended the local community on the ICC, a fine facility that it has built.
"Humari Tehzeeb aik Numainda Tehzeeb hai," said Ghazi, referring to the cultures represented in Urdu, a South Asian language enriched by Tukish, Persian and Arabic from where its poetry derives much inspiration.
And inspiration was not in short supply this evening as the first round of poetry began with Mahnaz Naqvi presenting "Mohabbat Kay Safar Mein" and "Mila Na Mila." Local software engineer Vasmi Abidi next attacked the issue of alienation in his verses. Ironically according to him in the age of global communication, email and the Internet people do not know their own neighbors. His "Jis kay Ghar say mila hai mera ghar.." was really moving.
Renowned poetess from Pakistan, Zakia Ghazal, next literally stole the evening with her "tarannum" singing style. Zaki's famous verses on Karachi are getting a great deal of notice recently. Her first naatia ghazal "Deta Hai" painted a full picture of events.
I will leave her "Koi Rishtay Nahin to Kiya Haq Hai Aap ko Faislah Sunanay Ka" to the readers to translate. ghazal's poetry etches a painfully clear portrait of events around her.
"Aik Teri Tamanna Ki Ruswai bhi Dekhain Ge" was certainly reflective of that quality.
Urdu poetry is not without its humorous tangent. Khamakhah Hyderabadi (India ) is certainly a true representative of that craft. "Naik Seerat ho to Soorat Ki zaroorat Kiya Hai," (With honest intentions, who needs good looks?) was one example. Hyderabadi took the audience to rollicking laughter with his wit and sarcasm. Individual and collective shortcomings were fair game throughout his presentation.
After the mushaira President Hanif Akhgar (from Dallas TX ) issued a call for support of the Iqra Foundation and another guest poet Azam Qasmi was invited on to the stageNext it was the turn of mushaira conductor Abidullah Ghazi himself to present his work. "Lut Gayay Dar Badar Ho Gayay, Kuch Idhar, Kuch Udhar Ho Gayay" spoke of broken connections. His "Waqt Pe Nazar Rakhna, Yeh Badalta Rehta Hai, Aaj Meri Baari Hai, Kal Tuhari Hai" referred to changing political conditions and was very well received.
Guest poet Azam Qasmi next presented his work, some from the Ghalib Centennial held in India . He was followed by Akhtar Shumaar (Pakistan) who took everyone on quite a philosophical path. "Apnay Hi Ghar Mein Mujhay, Ghar ki Talsh thi" (I was looking for home inside my own house!). His "Karain Kiya" (What to do?) was also very well received.
Rahat Indori (India) continued along similar lines. He began by saying:"Is Chotay say Hindustan aur Chotay Say Pakistan Ko Salaam Karta hoon." His "Kiyoon Hai" and "Aur Hai" were very well received.
Presiding over the mushaira, senior poet Hanif Akhgar proved his level of skill and proceeded to deliver both ghazals and nazms. "Wajood Mera Kahin Bhi Ho, meri Rooh Meray Watan Mein Hai," he said. "Jisay Jalna Nahin Aata Who Parvana Nahin Hota," he continued as he took a memory route and said some beautiful words in memory of his long departed mother.
In conclusion it was great to once again witness the Aligarh spirit alive and well in Northern California. The program started exactly on time and ended just too soon for many people, including this writer.

-------------------------------------------------------------------------------------