PSAs Stage Scintillating Culture Show in Los Angeles
By Sher Ali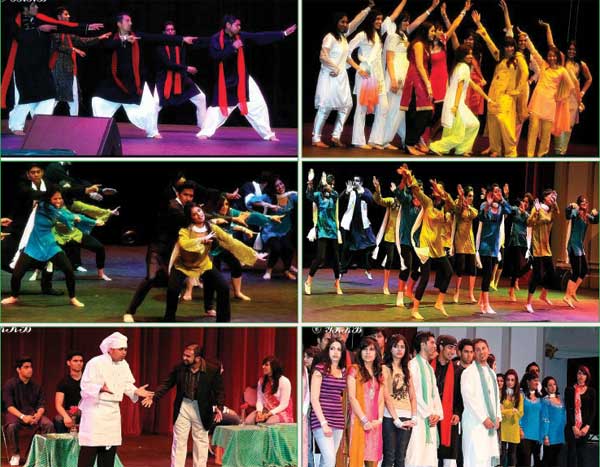 Nadia Khan, a Superhit Female Celebrity PAGE 32 Glimpses of the Culture Show organized by the PSAs of UCLA, USC, UCI and UCR
On March 30th 2008, the Pakistani Student Associations of USC, UCI, UCLA and UCR arranged a scintillating show highlighting the rich culture of Pakistan at the Bovard Auditorium, USC. Held for the third consecutive year, the show was truly spectacular and greatly enjoyed by members of the Pakistan-American community as well as many non-Pakistani groups present in the glittering auditorium hall. The proceeds from the show would go to the Society for Mental Retardation in Lahore.



SHOW From Left : PSA Presidents - Vageha Khan (UCI), Sabeen Chawla (USC), Imran Ahmed Sayeedi (UCLA), Sher Ali Khan (UCR) and Shalra Hameed (UCLA). Below: Glimpses of the function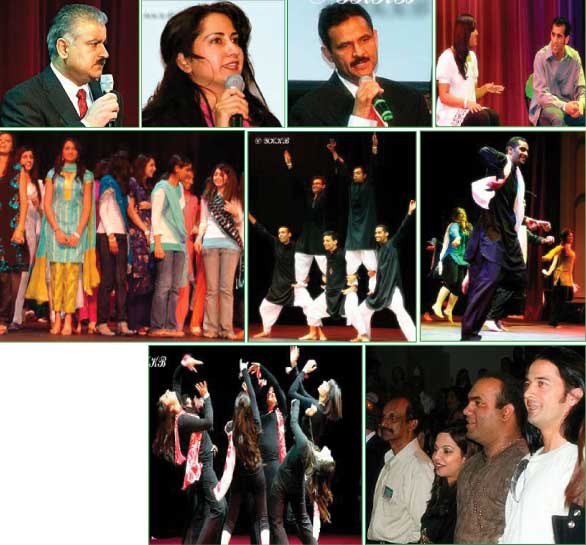 Led by the dedicated PSA presidents - Vageha Khan, Sabeen Chawla, Imran Sayeedi, Shalra Hameed and Sher Ali Khan - the show turned out to be a soul-lifting demonstration of the students' love for Pakistan. It was a memorable night of mirthful excitement and unending thrills with over 100 students, fired by the passion to do justice to the task of depicting Pakistan's rich culture, spiritedly participated in dances and skits. Thanks to the unwavering support of the grand sponsor Pakistan Link, the students proved equal to the task and were successful in mirroring the rich and vibrant culture of Pakistan.
During intermission, the audience was treated to the tasty food of Shalimar Gardens of Pomona. Indisputably, the chicken briyani and kabob rolls proved to be an added attraction for the audience.
The skits brought into sharp focus the challenges confronting the Pakistani-Americans. Exploring the affect of heritage in a Western society, the story line of the skits, complimented by the dances, seemed to be an extension of students. The folk dances and their more contemporary fusion were presented with a great degree of fineness and imagination. In essence, the cultural dances expressed the roots of Pakistani culture. The UCLA team showed off their machismo with a nicely prepared bhangra number and a beautiful finale that included many patriotic songs. UC Irvine girls presented a cultural dance which appeared to be the Junoon version of "lal meri pat". Participating for the first time, UC Riverside impressed many with their classical Pushto dance. USC used fusion to show that there is a place for the East and the West to coexist.
Overall, the Pakistan Student Associations successfully showed that when people unite anything is possible. Demonstrating unity these students would continue to inspire as they shine in their role of leaders and representatives of the Pakistani community.
-------------------------------------------------------------------------------------