Sohail Rana to Write for Pakistan Link
A Pakistan Link Report
Pictures by Abdullah Jamil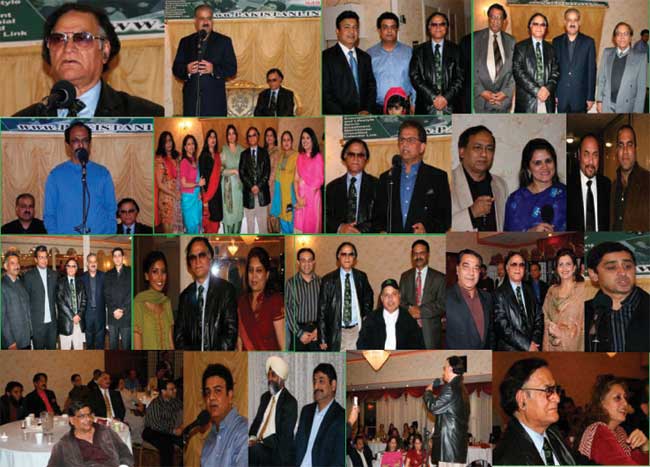 Glimpses of the dinner hosted in honor of Mr Sohail Rana by Mr Arif Mansuri, Managing Editor, Pakistan Link and President PL Publications
Lakewood, CA: Sohail Rana, a distinguished music composer of Pakistan who has earned fame for his scintillating compositions nationally and internationally, will pen down his life experiences in a series of articles that he would write for Pakistan Link. This was announced by Mr Rana at a dinner hosted in his honor by Mr Arif Mansuri, Managing Editor Pakistan Link and President PL Publications, at the Shahnawaz Restaurant on Thursday, April 10 (???).
Prominent members of the community who turned up to attend the dinner at short notice – barely a few hours before the function's proceedings –testified to the close cohesiveness of the Pakistani-Americans in the Greater Los Angeles area. Their presence in the Shalimar Banquet Hall also furnished proof of Mr Rana's immense popularity in the community.
The soft-spoken and suave music composer of yesteryear seemed to impress everyone in the gathering with his brief and well-meaning address. The unity demonstrated by the community in heartily responding to the Pakistan Link invitation buoyed Mr Rana's optimism about Pakistan's future: "Ab hamara Pakistan InshaAllah sanbhal jaega," he remarked.
"Sab nae kaha kae aap nae maazi maen bohot kuch kiya. Aab maen hazir houn aor North America maen kuch karoon ga. Saal maen do martaba yahan aaonga aur yahan kae bachon ko apna sarmaya sonp doonga." This he would do by chronicling his life experiences in Pakistan Link and by meeting members of the community. "Jo zindagi mae nae guzari hae uskae barae maen Pakistan Link maen likhta rahoon ga aur aap parthae rahiyae ga," he promised.
Speaking on the occasion Link's Managing Editor Arif Mansuri welcomed Mr Sohail Rana and paid rich tributes to him for his services to Pakistan. Mr Mansuri also profusely thanked members of the community for responding to his invitation at such short notice. Mr Shaikh Majeed, Director Marketing Pakistan Link, also spoke on the occasion and informed the gathering of PL Publications' timely initiative to bring out a yellow page directory detailing information about South Asian businesses in the US. "Linking businesses is our business," he said as he elaborated on the objectives of Link's forthcoming Yellow Pages.
Arshad Ali, Waseem Baig, Mrs Mohsin Shafie (Rosie), students of Mr Sohail Rana, and Ashraf Ali and, sang popular songs whose music was composed by Mr Rana. At one point, the entire Link team joined the trio to sing "Yeh des hamara hae/Isae ham nae sanwara hae/Is ka har aek zarra hamaen jan sae piyara hae/Yeh des, yeh des, yeh des…."
As the memorable evening drew to a close, there were many in the gathering who exuded visible keenness to read Mr Rana's memoirs in Pakistan Link.
-------------------------------------------------------------------------------------