Successful Launch of Memon Organization of North America
Pictures by YKKB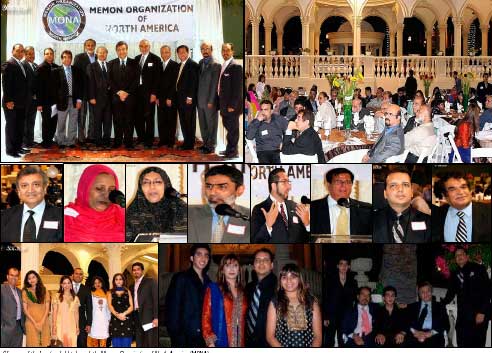 Glimpses of the function held to launch the Memon Organization of North America (MONA)

The first-ever umbrella organization of the Memon community in the United States was launched on July 19,, 2008. This singularly important event was attended by more than 300 members of the Memon community from all over the USA. It was the first of its kind meeting in which Memons from more than dozen states were present.
The social hour began at 7 pm and the program started at 8:30 pm. The proceedings got underway with a recitation from the Holy Qur'an. The personable Mr. Arif Merchant acted as the Master of Ceremonies.
The first speaker was Mr. Yousuf Tar who was elected as President of the Memon Organization of North America. Mr. Tar spotlighted the raison d'e tre of MONA and the positive impact it would have on community services in the US. He revealed that MONA would be a not-for-profit 501-3-c organization and would strictly follow the rules, regulations and codes of the Internal Revenue Services.
Mr. Tar called upon the Memon community to forge unity among its ranks and serve the community at large with unfailing zest.
Mr. Farooq Vakil presented the vision of the organization. Other speakers included Mr. Yasser Aman, Executive Director of the Ummah Clinic in Los Angeles, and Dr. Naseem Shekhani of the National Health Forum who also represented the Memon Medical Institute, Karachi. Dr. Shekhani is from St. Louis, Missouri. Mr. Daniel Noorani of the Chicago Citizen's Foundation and Mr. Tariq Yoonus of AX Publishing from Richland, Texas, also addressed the gathering.
Mr. Abdool Carrim Moosa presented a check for the Ummah Clinic and also made a donation to facilitate burial arrangements for indigent Muslims.
Mrs Nigar Rangoonwala and Mrs. Nasim Bangloria also spoke on the occasion.
A sumptuous dinner prepared by the Bismillah Restaurant was then served and thoroughly enjoyed by the gathering. "The meeting was well worth it, " said Mr. Hussain Rokerya, a great supporter of Memon unity.
Finally, the Board of Trustees of the Memon Organization of North America had a Q&A session. Members of the Board of Trustees are: Mr. Yousuf Tar, Farooq Vakil, Salim Adaya, Abdool C. Moosa, Abdul Wahab, Zakaria Sattar and Arif Merchant.
Mr. Yousuf Tar announced that about 150 members had signed in and agreed that they will work along with all international organizations, including the World Memon Organization, and operate under the framework of the Internal Revenue Service's Code of Conduct for non-profit organizations. Mr. Tar thanked members of the Memon community from Los Angeles and all over the US for participating in the meeting.
-------------------------------------------------------------------------------------