Sheriff Baca to Visit Pakistan to Advise Sindh Police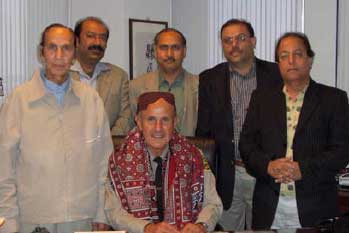 Los Angeles Couty Sheriff Leroy D. Bacca with the memebers of CPACC
Los Angeles, CA: Los Angeles County Sheriff Lee Baca is due to visit Sindh, Pakistan, along with a team of experts to advise the Sindh Police on various issues relating to the law and order situation in the province, particularly bomb disposal, street crimes, and mobile lab tests.
His visit is in response to a request made by the former Sindh Police chief to the Pakistan American Sheriff's Council to the effect that the Los Angeles Police Chief render expert advice to his department to fight crimes and lawlessness in the province. The Chairman of the Advisory Council, Mr. Waqar Ali Khan, and the board of directors of the Council recently met with Sheriff Baca at his headquarters and requested him to comply to the request of the former Sindh Police Chief. Known for his friendship with the people and the government of Pakistan, the Sheriff demonstrated spontaneous readiness to visit Sindh and help the Province's Police Department launch an effective policy to weed out crimes.
The Consul General is now making necessary arrangements to facilitate the Sheriff's visit to Pakistan.
Recently, a delegation of the Council of Pakistan American Chamber of Commerce from San Francisco, comprising Mr. Khalil Ahmed, Mr. Irfan Khan, and Chaudhry Sohail, called on Sheriff Baca and presented him the traditional ajrak and Sindhi cap as a gesture of goodwill and friendship . Visibly moved by the gesture, Sheriff Baca proudly proclaimed, "I am now a Sindhi.
-------------------------------------------------------------------------------------