DIL Fundraiser in Los Angeles a Great Success!
A Pakistan Link Report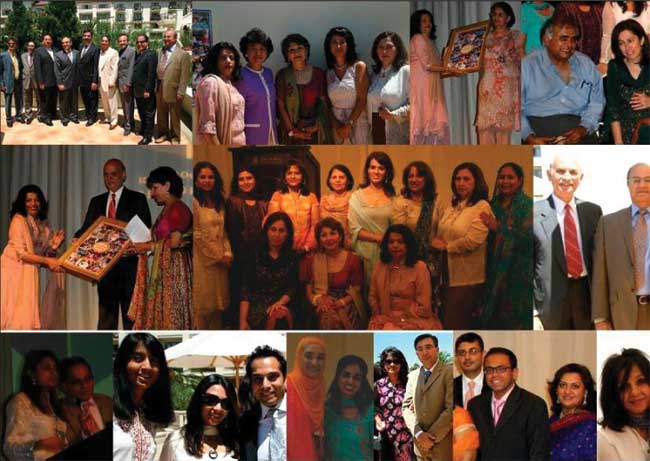 Pictures above: Glimpses of the fundraiser organized by Development in Literacy (DIL) in Los Angeles
The Developments In Literacy (DIL) LA Chapter fundraiser on Sunday August 17, 2008 at the St. Regis Monarch Beach Resort was held in truly ideal conditions. The weather was balmy and the presence of over 350 guests eager to support DIL made the occasion a memorable one. Thanks to meticulous arrangements made by Mariam Rashid, President of DIL's LA Chapter, and members of the board, the guests fully enjoyed the outdoor reception and an ocean view, followed by a sumptuous brunch in the elegant Pacific Ballroom.
Adam Fakhri and Erem Rashid acted as MCs. The proceedings commenced with a recitation from the Holy Qur'an by Leena Fakhri. The live auction conducted by Tariq Jesrai proved highly entertaining and helped in raising funds for DIL children.
The key speakers for the afternoon were the Consul General of Pakistan Syed Ibne Abbas; Fiza Shah, Founder and Chairperson of DIL; and Mariam Rashid, President of DIL-Los Angeles Chapter.
The Consul General eloquently lauded DIL's efforts to help the disadvantaged children of Pakistan. He emphasized that members of the community have to work together to help improve the living conditions in Pakistan. He felt that NGOs like DIL could play an important role in promoting education in Pakistan by lending a help to the government in the important sector.
In her absorbing speech, Fiza Shah narrated the story of Farzana Sial, an incredible teacher who is teaching not only her own students, but also helping their mothers to learn to read and write. These mothers are now proud of the fact that they can sign their own name instead of establishing their identity through thumbprints. DIL has given both the children and their mothers self-esteem and confidence by teaching them to read and write. Fiza concluded with the remark that DIL's current operating budget aggregates $1.6 million and is gainfully employed to run 150 schools to impart education to over 14,400 students in the four provinces of Pakistan.
Mariam Rashid recognized the recipients of DIL 2008 awards: Hashmat Saeed, founding board member and CFO of DIL, for ensuring that the organization is financially sound and transparent, and Dr. Meher Tabatabai and Mr. Syed Qaisar Madad, for their vision and philanthropy.
During the course of her speech, Mariam read a letter in Urdu from a sixth grade student, Faiza Salam, that touched everyone's heart. Faiza wrote of her deepest gratitude for the high quality of education and the change that DIL has brought to her community.
The keynote speaker, Dr. Meher Tabatabai, daughter of the late Brigadier Ali Tabatabai, noted that she is the product of Pakistani education and her success as a physician in the United States has been the result of that education. She shared her vision that one day all Pakistani girls would have access to quality education that she has been able to provide to her own two daughters.
DIL's event was generously underwritten by Dr. Meher F. Tabatabai and her husband, Mr. Syed Qaisar Madad, a successful entrepreneur in the financial and economic sector.
Among those who attended the fundraiser were Mrs. Amina Adaya, Salim and Yasmin Adaya, Najib and Aeisha Ghauri, Pervaiz and Almas Lodhie, Hamid and Javeeda Malik, Khalid and Parveen Ahmad, Amin and Hasina Lakhani, Anis and Mariam Bakali, Rauf and Zeenat Gajiani, Farooq and Mariam Vakil, Adnan and Tina Khan, Kashif and Theresa Sheikh, Nasir and Sarwat Javed, Bob Din, Ahmed Ali, and Mansoor Shah.
This immensely successful event raised over $450,000 for DIL's educational programs in Pakistan. All funds raised will go directly to funding DIL school projects in Pakistan.
DIL is a US-based 501(c)3 nonprofit organization dedicated to providing quality education to disadvantaged children, especially girls, by establishing and operating schools in the underdeveloped regions of Pakistan, with a strong focus on gender equality and community participation. DIL believes that no child in Pakistan, no matter how poor or underprivileged, should be denied access to quality education. All children should have equal opportunity to reach their full potential and contribute toward the socio-economic betterment of their communities.
DIL has chapters in Los Angeles, New York, Washington DC, Houston, San Francisco, San Diego, Canada, Singapore and the United Kingdom. YOUR DIL, the youth outreach arm of DIL, has chapters in Los Angeles, New York, Washington DC, Boston, Chicago and San Francisco.
Events are scheduled throughout the year at the various chapters to support DIL's programs. For information or to donate online, please visit www.dil.org or www.yourdil.org.
-------------------------------------------------------------------------------------