United States National Cathedral Honors Muslim Family
By Aziz Khan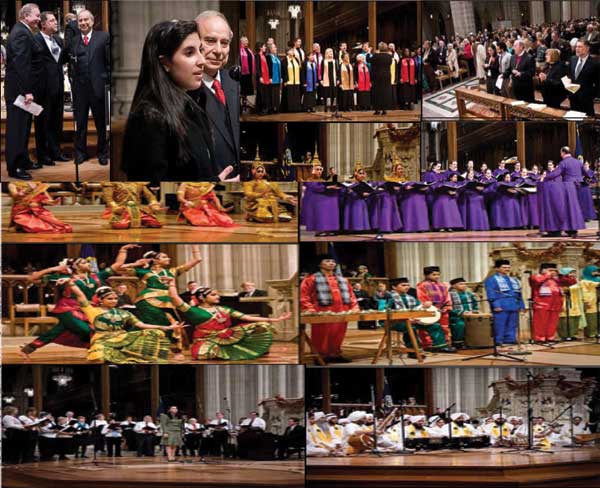 Pictures above: Glimpses of the ceremony
This past Tuesday, November 18, 2008, Dr. Akbar Ahmed and his family were honored for their interfaith work at the 29th Annual InterFaith Concert at the United States National Cathedral in Washington, DC. This is the first time that the InterFaith Conference, a leading dialogue organization established in 1978 that acts on the premise that religious pluralism is a great strength, has honored Muslims. The evening was presided over by Reverend Clark Lobenstine, the Executive Director of the Interfaith Conference.
The evening included performances by musicians and dancers representing nine world religions. Cambodian Temple Buddhist dancers, Nriryakalpana dancers, Indonesian Minang musicians and dancers, Sikh hymn singers and Jewish, Mormon, Protestant and Catholic choir singers and more united to attest to the glory of God and the importance of promoting dialogue and understanding.
The soaring setting of the Gothic cathedral, completed in 1907, and the transcendent performances provided an inspiring and moving setting for the ceremony honoring Dr. Ahmed. Bishop John B. Chane, the Eighth Bishop of Washington, and Senior Rabbi Bruce Lustig, Senior Rabbi at the Washington Hebrew Congregation, spoke of their deep friendship with Dr. Ahmed and presented him with a plaque consisting of two letters. The first was from the Chief Rabbi of the British Commonwealth, Sir Jonathan Sacks which stated:
"Akbar Ahmed is one of the great contemporary exponents of Islam, a man I admire as a scholar and cherish as a friend.
He is a role-model of reason in an age of anxiety, a voice of tolerance at a time of tension, and an avatar of hope when all too many are tempted by despair.
We need to recognize the courage of a man like Akbar, the breadth of his intellectual horizons, and the generosity of his spirit, for there are all too few in the world's great religious faiths prepared to take the risk of moderation in an age of extremes, and they represent religion at its highest. True faith does not fear; and true love of God extends beyond boundaries, inclusive in its embrace.
May he continue to be blessed and be a blessing in all he does."
The second letter was from the Former Archbishop of Canterbury, Lord George Carey, and stated:
"My first meeting with Dr. Ahmed was some ten years ago when I was Archbishop of Canterbury and Akbar was the High Commissioner of Pakistan to the UK. I was bowled over by our meeting. Here was a distinguished scholar in Anthropology and expert in Islam, eager to forward warm relationships between Christianity and Islam! We began a firm friendship that day; a friendship that has deepened into deep colleagueship in a number of inter-faith collaboration. I am delighted to offer this tribute as the 29th InterFaith Concert honors him tonight. He is a devoted humanitarian and a fine human being. Eileen and I only wish we could be with you to share in the rejoicing!
Akbar, be in no doubt of the significant role you are playing in our needy world."
Nafees Ahmed, the youngest member of the Ahmed family, spoke on behalf of the family. Although only a freshman student at Georgetown University in Washington DC, like the rest of the Ahmed family she has actively participated in interfaith work for years. Nafees started the first interfaith club at her high school, worked on the youth board of the Interfaith Conference and has given several speeches explaining Islam to the West. The Reverend Clark Lobenstine noted that her speech "challenges us to think of the future".
Kimberly Dozier was the Mistress of Ceremonies; she is a CBS News correspondent working primarily in Baghdad since August 2003. She has covered Iraq and the Middle East extensively for the CBS Evening News, The Early Show and CBS Radio News.
An audience of over 1000 people watched as groups from each respective faith came together in this inspirational evening of music and dance.
-------------------------------------------------------------------------------------