Congressman Keith Ellison Addresses Southern California Youth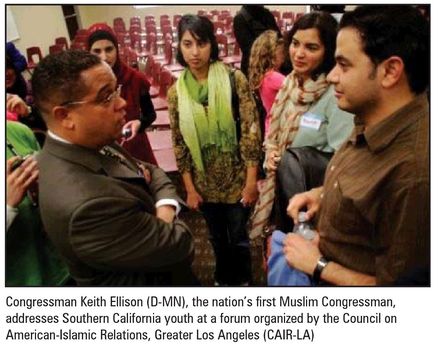 Irvine, CA: On Saturday, January 19, the Greater Los Angeles Area office of the Council on American-Islamic Relations (CAIR-LA) hosted a youth forum with Rep. Keith Ellison (D-MN), the nation's first Muslim member of Congress.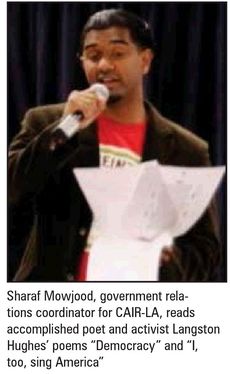 Congressman Ellison spoke to some 150 youth on the importance of political engagement. Peppering his talk with examples of heroes from the civil rights movement and other historical role models such as the Prophet Muhammad, the Congressman urged the youth to get involved and help America live up to its founding principles of freedom, justice and equality.
"This country always had a body of people who were willing to lay it all out there so we could have a freer, fairer, more equal nation," Ellison told the youth in a two-hour forum at the Chinese Cultural Center in Irvine .
He touched on the injustices committed in the United States ' 200-plus year history, such as subjugating black slaves and depriving women of the right to vote until 1920, and emphasized that a group of courageous Americans constantly spoke out against the racism of the time.
Ellison further inspired the youth to be good Muslims and shared moments from the Prophet Muhammad's time when he exercised restraint and returned his enemies' hate with kindness and generosity.
Sharaf Mowjood, government relations coordinator for CAIR-LA, said the forum was well-received.
"The youth actively engaged with Congressman Ellison, asking a variety of questions and seeking ways to become politically involved," Mowjood said. "The youth are our future, and this type of program gives them a head start in political engagement."
During his daylong visit to Southern California , Ellison also spoke and offered prayer at a multi-faith prayer breakfast in honor of Rev. Dr. Martin Luther King Jr., sponsored by the Los Angeles County Sheriff's Clergy Council.
-------------------------------------------------------------------------------------