Mirwaiz Umar Farooq Calls for "Out of the Box" Kashmir Solution
A Pakistan Link Report
Pictures by YKKB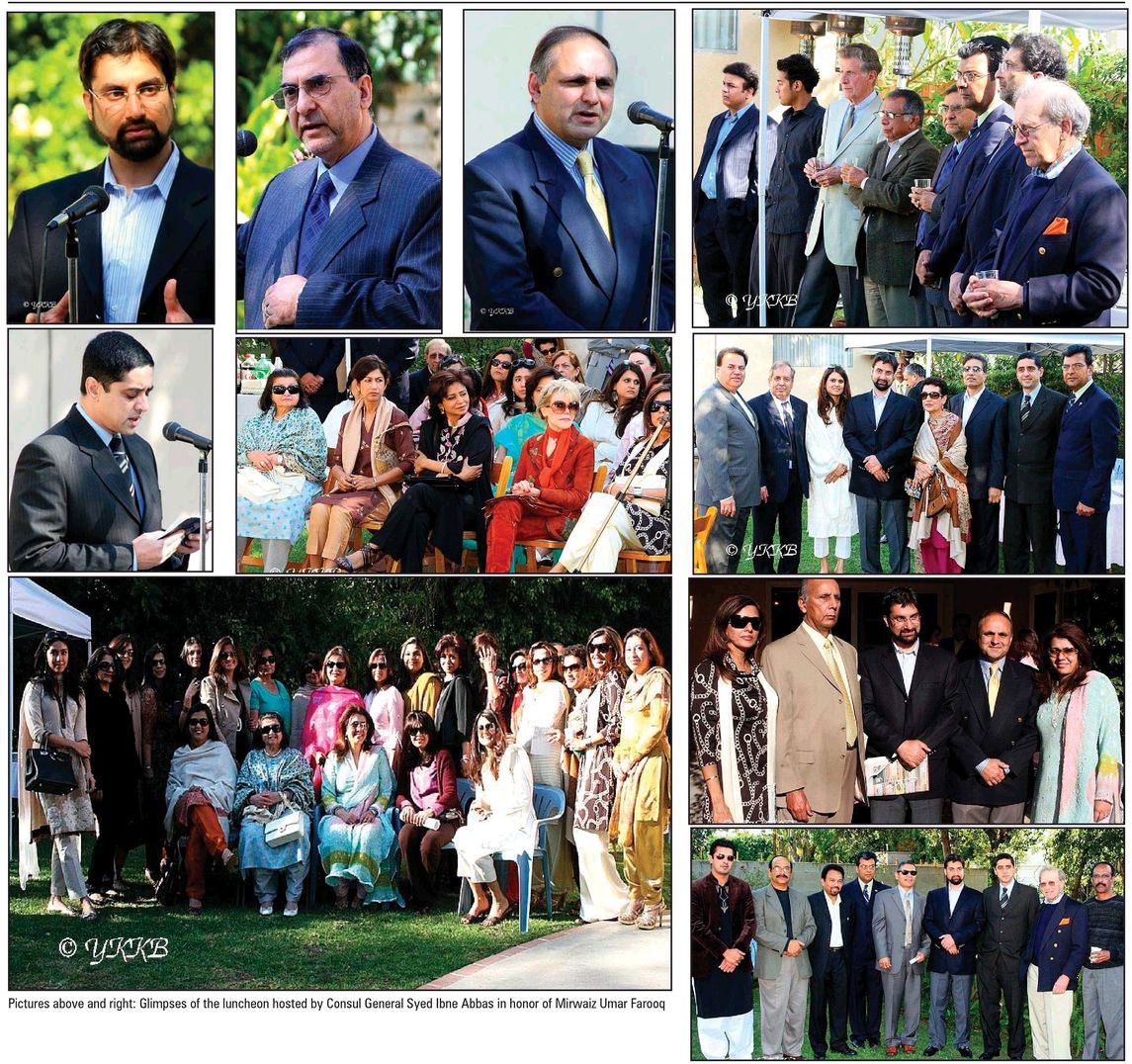 Pictures above : Glimpses of the luncheon hosted by Councel General Syed Ibne Abbas in houor of Mirwaiz Umar Farooq
Beverly Hills, CA: Mirwaiz Umar Farooq, Chairman, All Parties Hurriyet Conference, has urged an "out of the box" solution to resolve the long lingering Kashmir dispute that has plagued relations between Pakistan and India for sixty years.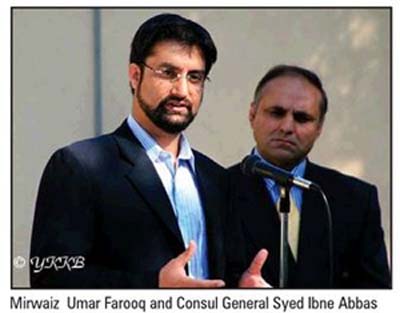 Addressing a select group of Pakistani Americans at the residence of Consul General Syed Ibne Abbas on Saturday, February 16, the young Kashmir leader spoke with candor as he spelled out the urgency of associating Kashmiris in the peace dialogue. "It is not simply a territorial issue. It is a humanitarian problem. It is a problem of divided families, of divided homes… We are not Indians, we are not Pakistanis. We are lost. It is a question of our identity," he said.
"The peace process has been going on for the last three-and-a-half years but the Kashmiris do not see a change. Today there is calm at the borders but Kashmiris are being killed every day."
There are a good many "workable" schemes to resolve the problem. In exploring the schemes, Kashmiris are willing to "accommodate Indian concerns."
Mirwaiz Farooq said that Pakistan has shown a great deal of flexibility in its stand on the Kashmir issue. He paid tributes to President Musharraf and the people of Pakistan who have unfailingly demonstrated concern for the "welfare of the people of Kashmir." The same could not be said for the Indians. "We are trying hard to make India understand that it needs to resolve the problem politically."
The Kashmiri leader strongly felt that the United Nations, the US, and the European Community should play their role in resolving the conflict. He hoped the February 18 elections in Pakistan would hasten the dialogue process between India and Pakistan. Wholesome results could accrue if the Delhi-Islamabad talks had the participation of Kashmiri groups in Srinigar and Muzaffarabad.
He also referred to Consul General Syed Ibne Abbas' role while working in the Foreign Office to impart momentum to the Indo-Pak dialogue.
Speaking on the occasion, Dr Ghulam Nabi Fai, Executive Director, Kashmir American Council, remarked that Kashmiris have not lost hope and remain steadfast in their resolve to gain freedom. He referred to a recent survey conducted by the CNN, Dawn and The News that testified that 87 per cent of the Kashmiris say 'we want azadi – freedom.' He was visibly critical of the status quo and felt "any peace process without defined parameters is not going to succeed." He went on to add, "I fail to understand if Kashmir is an integral part of India, how can Dr Manmohan Singh discuss the Kashmir problem with President Musharraf of Pakistan?"
Earlier, Consul General Syed Ibne Abbas described Mirwaiz Umar Farooq as a " very respected leader, a spiritual leader of the five million Kashmiri Muslims who is trying to translate the aspirations of the Kashmiri people in a peaceful way."
-------------------------------------------------------------------------------------