APPNA Holds 31st Annual Summer Meeting in Washington

By M. Shahid Yousuf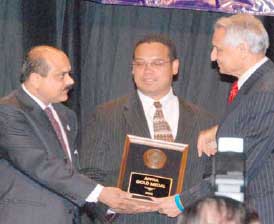 Dr. Shabbir Safdar is presented the APPNA Gold Medal for 2008 by Dr. Mahmud Alam, President APPNA 2008. Rep. Keith Ellison (D-MN) is in the center
The Association of Physicians of Pakistani Descent of North America (APPNA) held its annual summer meeting at the Mariott Wardman Park Hotel in Washington DC from June 25-29. The main theme was community empowerment through activism and solidarity.
The activities started early with the "Day on the Hill" which was organized by APPNA Committee on Advocacy, Legislative and Governmental Affairs and was sponsored by Muslim Advocates, Center for Voter Advocacy and Pak-Pac, .
This annual APPNA event held in Washington consists of members meeting their legislators to present their concerns. This year the preservation of American values of individual freedom and upholding of constitutional guarantees was the main theme. Racial and religious profiling as well as taking care of the health needs of underserved US population was also brought to the attention of the legislators. The event culminated in a luncheon during which Senator Joe Biden (D) spoke at length of his vision of aid to Pakistan


The major issues pertaining to the civil liberties of the Pakistani and the Muslim American community were the focus of APPNA Day on the Hill. The problem of significant delays in background security checks and visa issuance to young physicians and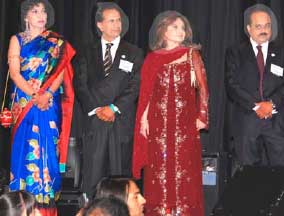 Executive Committee is introduced to the audience. (L-R): Drs. Saima Zafar, Treasurer 2009; Manzoor Tariq, Secretary 2009; Zeelaf Munir, President-elect 2010; and Mahmud Alam, President APPNA 2008
students continues to prevail. The broader problem of
immigration delays in the issuance of green cards and citizenships is part of the profiling against our community. APPNA has noted existing stereotypic passenger screening policies against the Muslim names at the airports and the border security checkpoints are the most intimidating civil rights violation that our community faces day in and day out.
The four days had numerous parallel events. On the educational and scientific side there were numerous medical lectures by experts. APPNA is authorized to issue AMA category I CME certification. There were activities for youth, women and numerous medical college alumni get-togethers.

The attendance was the largest so far and an adjacent hotel had to be used to house the excess attendees. The banquet itself had some 2000 guests. As usual numerous business entities of all descriptions, e.g. real estate offerings, religious and charitable booths, boutiques, jewelry, arts, crafts and carpets, were all on display at the bazaar. There was a mushaira almost everyday. The APPNA Alliance, an organization of spouses of physicians, had invited Zia Mohyuddin who enthralled the audience with his polished delivery of a number of Urdu readings. Thirteen Pakistani medical college alumni had their annual meetings and banquets.

Shaykh Hamza Yusuf speaks on "Medical Ethics: The principles of Islamic Bio Ethics"
Rep. Keith Ellison (D-MN) was the keynote speaker on the banquet night. The night also showed a video produced by Muslim Advocates regarding the appropriate response when US authorities turn up at your door. The video advised the presence of your lawyer when speaking to authorities such as FBI etc. The mushaira had numerous popular poets including Ahmad Faraz, Qasim Peerzada, Gopi Chand Narang, and Noshi Gilani. The entertainment program had a variety of performers including Amanat Ali and Mauli Dave.
All registrants received a copy of former President of USA Jimmy Carter's book "Palestine Peace Not Apartheid"
-------------------------------------------------------------------------------------