Aitzaz Predicts More Lawyers Rallies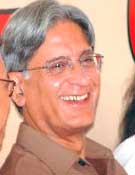 Boston: The leader of Pakistan's "lawyers' movement" on Thursday predicted more rallies across his home country by lawyers and activists demanding the reinstatement of judges fired by President Pervez Musharraf.
Decisions on further marches would be taken at a meeting on July 12, said Aitzaz Ahsan, who has led a movement to reinstate about 60 judges removed last year by Musharraf.
"If the judges are not reinstated we will of course bring about a schedule for marches and other affirmative sort of action which will be entirely non-violent," Ahsan, president of the nation's Supreme Court Bar Association and the attorney representing Pakistan's chief justice, said in an interview.
The lawyers' movement organized motor processions from city to city last year to support ousted chief justice Iftikhar Chaudhry, the judge who was removed from the bench and placed under house arrest last year after declaring Musharraf's declaration of a state of emergency unconstitutional.
Several thousand protesters including lawyers and activists gathered outside Pakistan's parliament on June 13 in the climax of the last march.
"One man had no right under the constitution to suspend the constitution, no right to amend the constitution, no right to dismiss 60 judges, no right to arrest 60 judges and no right to detain 60 judges along with their family members," said Ahsan.
A fierce critic of Musharraf, Ahsan said he was not worried that a second round of protests could potentially weaken his cause if they failed to match the scale of the last rallies, in which thousands of people participated.
"Had it ended in violence or mob action then it might have been smaller. I think it is likely to be even bigger," he said after speaking at Harvard University's Belfer Center for Science and International Affairs in Cambridge, Massachusetts.