SABAN Honors South Asian Leaders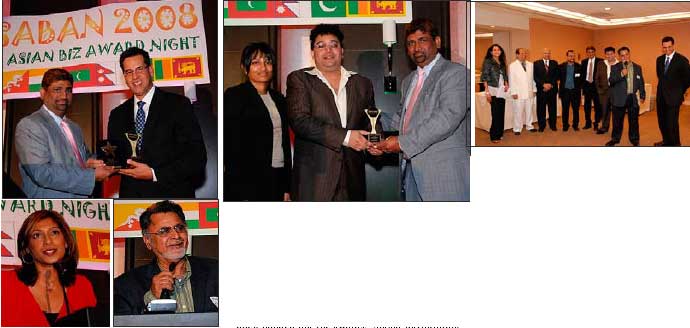 Pictures above: Glimpses of the SABAN Award Ceremony
The South Asian Business Alliance Network (SABAN) honored South Asian entrepreneurs and business leaders at its annual event on Friday, June 20, 2008 at the Grand Wilshire Hotel in Downtown Los Angeles.
SABAN is a business networking group established in 1998 to promote and develop South Asian business activities in the Southern California area for small and large businesses. Its mission is to create, develop and promote the strength of South Asians in America. SABAN strives to create business opportunities, improve communication and prosperity of South Asians residing in the US, and enhance the quality of their lives while preserving their heritage.
A Leadership Summit was held in the morning. Leaders from various business chambers and associations from other states attended. Their discussion was focused on creating, developing and uniting the South Asian groups to form a national alliance and promote inter and intra community business relations.
At the banquet ceremony held in the evening, Ken Singh, Chairman of the Annual Banquet, handed out the awards. Subha Ravindhran, Reporter for Channel 7 KABC News emceed the event. The UCLA Nashaa Dance Team opened the banquet with an energetic performance and Rasika Mathur, South Asian comedienne brought laughs to the event with her comedy character Neelam Auntie.
The gala show and banquet recognized entrepreneurs and business leaders in the South Asian American Community.
The Best South Asian American Corporation award was presented to Prudential Financial and was accepted by Ed Morales, Vice-President of Diversity, and company representative Pam Kwatra.
B. U. Patel, Founder and Vice-chairman of Tarsadia Hotels, was named the Best South Asian American Entrepreneur. Mr. Patel is also a community leader and is actively involved in supporting and spearheading local community projects
The Best South Asian American Emerging Entrepreneur award went to Mohammed Ibrahim, the founder of Kool Freeze Premium Frozen Product, Inc., based in Ontario, Calif., Ibrahim's company, founded in 2006, makes kulfi, a popular frozen dessert product which is available in natural food stores throughout the country.
The Best South Asian American Young Entrepreneur award went to Manan Singh Katohora, the CEO of JMD Creations, an independent film production company based in New York. Katohora recently completed his feature film "When Kiran Met Karen," which he wrote, produced and directed
Shaila Rao Mistry, president of JAYCO MMI, Inc., and vice-president of Jayco Interface Technology, Inc., based in Corona, Calif., was the evening's Best South Asian American Woman Entrepreneur. While her company develops, designs, engineers and manufactures cutting-edge interface products designed to improve human-machine interaction, Mistry recently led an all-woman trade delegation to Belgium and the Netherlands.
The Best Pakistani American Entrepreneur award was presented to Nasir Mogul, the president and CEO of Anchor Financial Services, the Anchor Wealth Group and other business entities based in New York, Pakistan, Bangladesh, Malaysia, Saudi Arabia and other countries
The Best Bangladesh American Entrepreneur award went to Abu Zubair, principal of ZRanch, LLC, in California's Imperial Valley, which specializes in agricultural production, packing and distribution throughout Southern California. Zubair started ZRanch in 1991 and currently serves over 40 Southern California communities and promotes healthy eating in more than 1,400 Los Angeles Unified School Districts
Hashmath Malik, principal of Prime Time Tours and Travel in Artesia was honored as Best Indo-American Entrepreneur. Mr. Malik's company has served the community for the last 28 years
For additional information please call:
Mohammad Islam 949/726-8804 mislam100@hotmail.com, Smita Salgaonkar 714/269-6001 smita@neemosicecream.com.
-------------------------------------------------------------------------------------