Interfaith Moot Urges Global Anti-terror Pact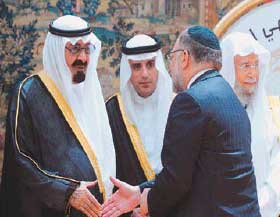 Saudi King Abdullah shakes hands with a participant in the Conference
Madrid: Saudi King Abdullah appealed for "constructive dialogue" to end disputes among the major religions as he opened an inter-faith conference here on Wednesday.
"We all believe in one God... We are meeting here today to say that religion should be a means to iron out differences and not to lead to disputes," he said at the three-day World Conference on Dialogue organised by the Muslim World League. King Abdullah called for a "constructive dialogue to open a new page of reconciliation after so many disputes".
Around 200 people, including representatives of the world's major religions, attended the conference. Among them were the secretary general of the World Jewish Congress, Michael Schneider, and Cardinal Jean-Louis Tauran, who is responsible for dialogue between the Vatican and Muslims.
"Most of the dialogue has ended in failure...," King Abdullah said. "To succeed we must emphasize the common link among us which is a belief in God." He said religion could combat many of the problems of modern society.
"Terrorism..., the breakdown of families, drugs, exploitation of the weak — all these are the consequences of a spiritual void."
Representatives of the world's great religions at the end of the landmark conference passed a declaration condemning terrorism and demanding international agreement on defining it, addressing its root causes and achieving justice and stability in the world.
"Terrorism is a worldwide phenomenon and requires international efforts to combat it in a serious, responsible and just way," the declaration said.
Over 300 delegates belonging to Islam, Christianity, Buddhism, Hinduism, Judaism and Sikhism noted that terrorism was one of the most serious obstacles confronting dialogue and co-existence.
"Terrorism is a universal phenomenon," the conference observed urging dialogue as one of the most important ways of knowing each other, "but terrorism is main obstacle in way of the promotion of dialogue," the declaration said.
Addressing a news conference at the end of the dialogue, Secretary General Muslim World League (MWL) Abdullah Abdulmohsin Al-Turki said the conference held on the appeal of the Saudi King Abdullah had no political motives; rather it focused on protecting human values through a continuous process of world dialogue.
The declaration also called for observing peace, honoring agreements and respecting traditions of peoples and their right to security, freedom and self-determination that are the basis for building good relations among all the people of the world. "Achieving this is a major objective of all religions and prominent cultures," the declaration said.
The declaration highlighted the significance of religions and moral values as well as the need for human beings to revert to their Creator in the fight against crime, corruption, drugs and terrorism. It also called upon the people to preserve the institution of the family and protect societies from deviant behaviors.
The participants of the conference agreed that dialogue was the best way for mutual understanding and cooperation in human relations as well as peaceful co-existence among nations, followers of different religions and prominent cultures.